"I was an oddball"
Before Javier Fernández, painter Darío Villalba was Spain's only male Olympic figure skater
Painter Darío Villalba points to a large space in his studio in Madrid. "It was there," he says. "I asked Javier Fernández to do a quadruple without skates. And I was amazed by how much he jumped. Astonishing."
The recent encounter brought together two men who at one time have both dedicated themselves to skating: Villalba, the first figure skater to represent Spain at an Olympic Games — in Cortina d'Ampezzo, Italy, in 1956 — and current double European champion Fernández, who begins his quest for a medal in Sochi on Thursday (from 4pm, Teledeporte).
Now a prestigious artist, Villalba — a winner of the National Art Prize and a member of the San Fernando Fine Arts Academy — remembers his beginnings on the ice with nostalgia. "I was 11 and my father was the Spanish consul in Philadelphia. We had also been in Boston. At school on Wednesday afternoons they took us ice skating. And it turned out I had a lot of talent for skating and straight away I won all the prizes in Philadelphia. The tragedy for my career was moving back to Spain, at the age of 14, because there weren't any ice rinks here — nothing — just a small one in a cabaret."
It was his passion that convinced his parents to pay for the trips and training that allowed his love for pirouettes, jumps and the ice to continue whenever he had a break in his studies — in summer he went to Chamonix, and in winter, to London and Switzerland.
The Spanish championships in La Molina, Girona province, were almost a bore for him. "I won with my eyes closed," he recalls. "Nobody knew how to skate back then. And neither were there any other competitions here." The level was very modest — just three or four kids who had come from roller skating and were no competition for a boy who danced on his blades.
"I had real passion for skating, though it is a very tough sport. I had to train a lot and be ready to receive a lot of bumps and carry on. I was an oddball among my classmates and friends. That's how I felt."
His training sessions abroad sowed the seeds of another dream: an Olympic Games. "I trained very hard and so I qualified for the Cortina d'Ampezzo Games in 1956. I was a very good kid and very happy skating. The Games were my big dream. I had only one obsession: not to finish last."
And he didn't. At just 16 years of age — he turned 17 a short time after the Games — Villalba finished 14th out of 16 in the individual men's program — the same position Fernández achieved at the 2010 Vancouver Games. Until Sochi, the two were the only figure skaters to have represented Spain in the men's category at the Olympics — Javier Raya is joining Fernández in Russia.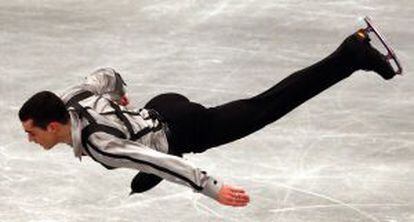 After that small feat, Villalba also finished 15th at that year's world championship, in Garmisch-Partenkirchen in Germany. Then what? "My coach in London said to me that with a lot of effort I might be able to go from 14th in the world to seventh. It wasn't enough for me. I quit it and focused on painting, my other great passion since childhood."
At 18 he held his first exhibition in Madrid, started studying at the San Fernando Fine Arts Academy, worked in Paris, received a scholarship for Harvard and returned to London — this time not with the feet of a skater, but the hands of a painter.