Germán Coppini, voice of 'la movida'
Singer with 1980s bands Siniestro Total and Golpes Bajos died on Christmas Eve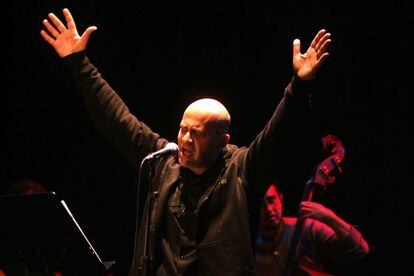 It seems particularly cruel to learn of the sudden death of Germán Coppini on Christmas morning, when Madrid is strangely silent. But in a way, it makes sense. Germán's career illustrates many of the peculiarities of the Spanish pop scene: he enjoyed a few brief years of recognition, before becoming invisible, a victim of the lack of interest of an industry and media careless with talent.
Germán Coppini López-Tornos, born in Santander in 1961, died on Christmas Eve in Madrid, victim to a recently detected liver cancer. He was a key figure in two of the most potent groups to emerge in the 1980s: the first version of Siniestro Total (Write-off), and Golpes Bajos (Below the belt). Yes, we're talking about la movida. The mood has turned against this movement, which is now caricatured as some kind of aberration unique to Madrid and subsidized by the Socialist Party government of the day, while forgetting that the shock waves from that artistic and creative explosion reached just about every corner of the country.
The movida was a national and generational phenomenon, and not just some public relations exercise involving a few trendy bands. The early days were tough for Coppini: Siniestro Total didn't fit into the punk scene, but audiences regularly covered the band in spit. At one concert in Barcelona, Coppini was hit by a flying bottle, leaving him with a broken leg. The event speeded up his exit from the band; he had been complaining that its image was preventing him from developing artistically. In Golpes Bajos, Coppini was allowed to express his literary and musical knowledge. He was accompanied by three instrumentalists, Teo Cardalda, Luis García, and Pablo Novoa, who came up with a techno-funky sound unheard of until then in Spain. Their talent showed that the movida had begun to absorb a wider, unclassifiable range of talents, and that there was a public out there interested in serious, mature music.
He was the victim of a music industry and media that are careless with talent
In what would become a pattern, Golpes Bajos lasted barely three years, producing three records in that time. There was a brief, and unhappy reunion between Coppini and Cardalda, with the pair accompanied by a professional backing band, but the spark had gone out. Vivo, recorded with no expense spared, and set to be distributed by a multinational, almost put Nuevos Medios, the band's label, out of business.
It was widely accepted that Germán was one of the best voices of his generation, a musician able to combine a wide range of eclectic styles. But sadly, this was not necessarily the recipe for success back in those boom times. Coppini moved from one project to another. With Nacho Cano, founder of Mecano, he produced Edición limitada in 1986. The following year came El ladrón de Bagdad, a solo effort, and then in 1989, Flechas negras. None of these records made any impact. At the same time, it has to be said that Coppini was not an easy artist to package: the creative process took everything out of him.
By the 1990s, he was pretty much an underground figure. Records appeared bearing his name: there was the Anónimos project with old friends; he worked with musicians like Álex Brujas, who had grown up listening to his warm, rich voice, and who understood his poetic universe, and with whom he made Lemuripop; and he also worked with the Seville-based group Maga.
He had the good fortune to connect with a fan, Pablo Lacárcel, who had founded Lemuria music, producing América herida for the label, a collection of rock versions of some of South America's best-known singer-songwriter material, from Victor Jara to Carlos Puebla.
Politically active, he supported the protests against health and education cuts. A committed Republican, he even stood for Congress in 2011, leading a coalition of Republican groups.
He was never nostalgic about the movida, and never looked back. He said that he had no regrets about what he had done during the 1980s, but refused to be photographed with former band members from that time when the Spanish edition of Rolling Stone did a special on the era a few years ago. He continued to write about Vigo, the Galician port city where he had grown up, and often complained about the lack of money he had made from a career in music, despite having written some of the most powerful songs in recent years.
But he never threw the towel in. When he wasn't looking after his ailing father, he continued to work on his music or devoted his energies to politics. He spent time in hospital, unaware, almost up to the end, of the illness that would kill him. He leaves behind three children, and a wonderful collection of music.