THE PP'S HIDDEN FINANCES
Rajoy to explain "own version" of Bárcenas case in parliament
Prime Minister bows to Socialist leader's threat of censure motion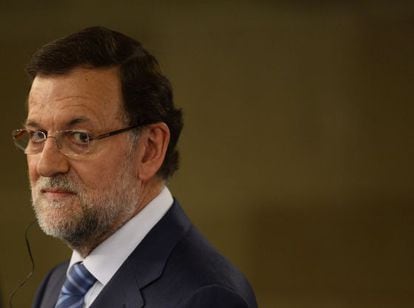 Bowing to mounting pressure, Prime Minister Mariano Rajoy on Monday said he would appear in Congress to give "his version" of accusations lodged by the former treasurer of the ruling conservative Popular Party, Luis Bárcenas, who testified before a judge that the PP leader and other top party officials received large sums of money in cash from him via a slush fund he had created from illegal donations made by firms.
In response to a question asked by a reporter at a joint news conference in Madrid with visiting Romanian Prime Minister Victor Ponta, Rajoy said he had spoken Sunday with the speaker of the lower house about appearing in parliament to debate the current political and economic situation.
"I will also speak on the issue that is of concern to you," he said. "I will answer questions in parliament, I will also reply to questions from the media; I have always answered questions."
Both Rajoy and PP secretary general María Dolores de Cospedal have denied receiving cash payments from Bárcenas.
"This is the right moment to explain in parliament what has been done so far and clear up legitimate doubts that the public has," Rajoy said. "I have already replied on this issue," he said, in reference to the Bárcenas case. "But I am fully aware that it has generated doubts among the public."
Rajoy has come under growing pressure since the Socialists and other opposition groups said they would present a motion of censure in parliament this week. Elena Valenciano, the Socialist secretary general, said on Monday that her party would, for now, hold off presenting a "measure so difficult, so exceptional for a period in democracy." Nevertheless, she said her party will continue to push for Rajoy to step down.
Bárcenas is currently in preventive custody at Madrid's Soto del Real prison in connection with his role in the Gürtel kickbacks-for-contracts corruption case, in which a number of officials within the PP have been indicted.
"Society deserves that Rajoy explain his connection to this illegal financing scandal, which has been going on for more than 20 years in his party, and should be his responsibility as a PP leader. Above all, we have had to force the prime minister to comply with his obligations," Valenciano said at a news conference concerning the censure.
Bárcenas is thought to have siphoned away millions of euros into Swiss bank accounts, and is facing a range of charges including fraud and tax evasion.
The former PP money man kept secret ledgers for some 20 years detailing donations to the party — many of which may have been illegal — and sums paid to top officials. Last week, he admitted for the first time to being the author of these documents, copies of which were first published by EL PAÍS on January 31.
Opposition parties had threatened to table a motion of censure against Rajoy in an effort to force him to appear in parliament over the Bárcenas case. In an interview with EL PAÍS, Alfredo Pérez Rubalcaba, the leader of the main opposition Socialist Party, said: "Rajoy cannot govern without explaining the Bárcenas case."