Deputy dares Popular Party Valencia premier to expel him
Financial fraud suspect Rafael Blasco lays down gauntlet to Alberto Fabra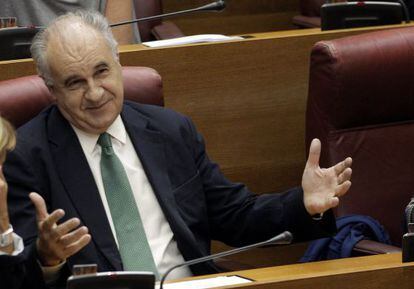 A Valencia deputy facing charges of financial fraud put the authority of regional premier Alberto Fabra to the test this week by challenging him to expel him from the Valencian Popular Party (PPCV) grouping.
Rafael Blasco, the former head of the regional department of solidarity and citizenship, is being prosecuted on four counts relating to the diversion of public funds, which were originally destined for the developing world.
The Valencia government itself is asking for him to serve 11 years in prison and be disqualified from holding public office for 31 years for his alleged involvement in the fraud.
After attending the prior Popular Group meeting as normal on Wednesday, Blasco waited for the main parliamentary session to make his challenge public. With all the media present, he headed out into the corridors of the regional parliament to talk to journalists and pose for photographs.
The Valencia government wants Blasco to serve 11 years
"If an oral trial is opened, I will assess the situation and will do the best for my party and my role as a deputy," Blasco told gathered reporters. On the possibility of him stepping down, he said: "That hypothesis is not under consideration, it is absurd to talk about it. I will not do anything that goes against my dignity or puts the democratic representation that I have in doubt."
Blasco's flamboyant ultimatum creates a serious crisis at the heart of the Valencian PP on the eve of a regional party convention set to be opened by party leader Prime Minister Mariano Rajoy on Saturday in Peñíscola.
Fabra felt obliged to offer a similarly bold response. "Blasco knows that he will have to leave the parliamentary group when the two conditions I announced are fulfilled," he pointed out during an event in Benissa, Alicante province. "And one of those has already been fulfilled."
Fabra was referring to his announcement last week that Blasco's continuity in the Popular Group would be conditioned upon the request from the regional government lawyers, and the decision on whether to open an oral hearing by the Valencia regional High Court judge, which could take weeks.