Your home is not a hotel
Government to change law on renting out of privately owned properties to tourists Hotel owners say this tourism conflict can be resolved with regulation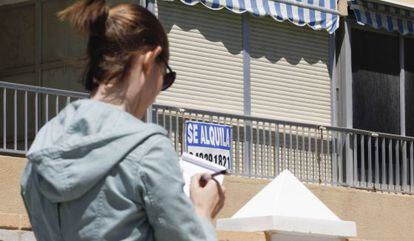 Spain's much-maligned beach tourism sector is one of the few areas of the economy to register any growth in recent times. In 2012, some 57.7 million overseas tourists visited Spain, up 2.1 percent on the previous year. This year looks set to build further on those numbers, and the sector is holding its own despite Spaniards' continued reluctance to take a vacation at home. Seeing an opportunity, other sectors and individuals suffering from an economy still showing no signs of recovery, are moving into tourism. The only infrastructure required is a property, sometimes as little as a room, converted into tourist accommodation.
Responding to what it calls "unfair competition," the government has decided to exclude thousands of properties in holiday areas from the Urban Rental Law (LAU), which until now has allowed property owners to let apartments and houses on a short-term basis. Spain's hotel owners' association estimates that around 1.5 million properties throughout the country are let out without being subject to any controls regarding quality or services.
The figure could be higher, given that over the last five years many unsold properties have been rented out. Hotel owners say that growing numbers of families are letting out their second homes to make ends meet. According to a report by savings bank La Caixa, last year there were more than 1.1 billion overnight stays in Spain. Of that figure, 764 million were in unregulated premises. Regional governments and some local councils have been trying for years to limit the number of private rentals, with little success, as the figures show. Now the government has taken up the mantle.
There are a lot of people renting out, and we don't know who they are"
"There are a lot of them, and we don't know who they are," says Bruno Hallé, a partner in tourism consultants Magma Tri. Regional governments, which have devolved powers over their tourism sectors, have been unable to act, they say, because of the LAU, which enshrines the right of owners to let out their properties "by the season." The new legislation notes: "In recent years there has been a significant increase in the use of private accommodation for tourism," dubbing the trend "intrusive."
The government aims to change the LAU, excluding "the seasonal use of a property furnished and equipped and in condition to be used immediately and advertised through tourism channels or carried out to make money, and requiring such properties to be regulated along the same lines as hotels, apartments, camp sites, or other holiday accommodation."
Other regions such as Catalonia have already begun clamping down to restrict the letting out of holiday apartments. Madrid's regional government says it is to introduce legislation requiring people who let out properties to be fully registered and subject to the same legislation as hotels.
Any doubts as to the government's intentions are dispelled in the preamble to the new legislation, which will go before the Senate in the coming weeks. Based on the findings of the 2012-2015 National Tourism Plan, which predicts a 15-percent increase in demand for tourism apartments, the new law says that the proliferation of vacation homes could reduce "the quality of tourism destinations."
Not such a flat business
- The tourist apartment sector generates around 2 billion euros a year: 1.5 billion euros directly, and half a billion euros indirectly.
- Hotel owners estimate that there are around 1.5 million apartments being let that are unregulated.
- In 2012 there were 1.1 billion overnight tourist stays in Spain, of which 764 million were in unregulated properties. The majority were in Andalusia, Catalonia, and Valencia.
- According to the Economy Ministry, rent from unregulated holiday apartments amounted to three billion euros in undeclared income, the majority from holiday lets.
- Tourist apartments make up around 10 percent of the property market in cities such as Barcelona.
- The average stay in a tourist apartment is 7.2 nights; the average amount spent is 53 euros a day.
- The association representing vacation apartment managers says that the government's proposed law would fail to identify around 20,000 properties.
One of the newcomers to this sector is Mireia O, who after losing her job and with a 650-euro mortgage repayment to face each month, initially intended to rent out room in her apartment in central Barcelona, but finally decided to move in with her mother and let the entire apartment out, advertising it for visitors on a daily basis on several websites. But if her apartment no longer meets the requirements of the new law, she will not be able to let it out, or will have to risk doing so illegally.
Hotel owners say that people like Mireia are competing unfairly. "We have no problem with tourists staying in apartments, but we are opposed to growing numbers of tourists staying in apartments that are not regulated and that pay no taxes, a practice that also means regional governments are losing out on revenue," says the secretary general of CEHAT, the Spanish Confederation of Hotels and Tourism Accommodation, Ramón Estalella.
Hotel owners say that many British investors who bought properties on Spain's coastline when prices were high, and who now cannot sell them at a profit, have opted to let them. They add that these properties are advertised on websites outside Spain, and that this effectively exempts them from paying taxes here.
The Economy Ministry estimates that private rentals of tourist apartments, the majority along Spain's coastline, are worth around two billion euros a year. "Holiday lets are much more profitable than other rentals, and it is more profitable to let them out for two weeks or a month than for the whole year," says Manuel Gandarias of www.pisos.com, a website specializing in property rentals and sales.
Some people do not pay their taxes, but this is not the way to solve the problem"
The fight against private holiday rentals has proved a headache for regional tourism authorities. Some have recently introduced legislation, and others are preparing to do so. Catalonia, where there are an estimated million beds in properties that are unregulated, compared to 600,000 in hotels and registered properties, introduced legislation in 2011. The law distinguishes between tourism apartments in buildings allocated entirely for industry use, and holiday properties, which are individual apartments or houses. The latter will now be required to meet certain minimal standards regarding furnishings and hygiene.
Apartments no longer need to be registered as tourist accommodation, and can instead be registered as an "economically active property." This means that the owners of apartments rented out to tourists no longer require a license from the town hall, and only need to notify the local tourism department, which will arrange an inspection. Tourist apartments will be given a star rating, similar to those used for hotels, and owners will need to make a 24-hour emergency telephone number available. In addition, criteria for minimum standards of cleaning and hygiene will be put in place.
Nevertheless, Hallé is skeptical, noting: "It will be very difficult to identify these properties."
The regional government of Madrid also intends to crack down on private rentals following a large number of complaints in recent years from hotels.
Property owners are worried that a future modification will state that renting out apartments for short-term periods is purely a tourist activity and should only be carried out by properties built on tertiary-purpose land (not residential), which would therefore make any other type of holiday renting illegal.
There have been several reports in the British media over the last three years about homeowners in the Canary Islands facing stiff fines for letting out their holiday properties without informing the local authorities.
Many property developers have empty apartments and they have put them on the market. This has helped them through the crisis"
Juan Antonio Duro, a professor of economics at the Rovira i Virgili University in Tarragona, says it is essential that all properties let out to tourists be regulated. "It is not in our interest to have activities that are not regulated in economic terms, and that contribute to the black market. We also need to gather data on demand, which in many areas is not clear due to the use of such apartments," he says, adding that data gathering is essential for local councils to be able to assess water and sewerage requirements during peak times.
He says that until now it has been very difficult to make an assessment of the number of privately let apartments, because local councils, which have long complained of being under-resourced, have not cooperated.
The regional government of Catalonia has now decided to work with local councils, promising them part of the new tourist tax. That said, the regional government's new policy raises several questions, among them the likelihood that local councils will impose strict restrictions on private holiday lets.
David Tormos, the president of Asotor, which represents companies that manage holiday apartments in Madrid, questions the government's strategy of trying to end the black market in tourist lets by changing the LAU. Asotor says that this approach will simply mean that some 20,000 properties will not be covered by the law because not all regional governments are empowered to regulate holiday apartments.
Asotor says that the central government is yielding to pressure from hotel owners. Tormos says the proposed legislation violates the individual's right to make a profit from a property and that of tourists to decide where they prefer to stay.
"This is a product that is in demand. Many property developers have empty apartments and they have put them on the market. This has helped them through the crisis. They are not breaking the law; they are paying their taxes. Many people are only able to pay their mortgages in this way," he argues before admitting: "There is a black market because some people do no pay their taxes, but this is not the way to solve the problem."
Spain's hotel owners want apartments used for tourism be regulated
Manuel Gandarias of www.pisos.com explains that letting out empty properties to tourists is a solution when no buyer can be found, but says that it is possible for hotel and apartment tourism to co-exist. "The hotel sector is very strong in Spain, and is responding to the increase in numbers of apartments to let. But the two models are compatible. In general, when tourists come here for the first time, they stay in a hotel, but after the third or fourth time, they prefer to stay in a property," he says.
Spain's hotel owners say that they do not want to stop tourists renting apartments, but simply that all properties used for tourism be regulated. They say that there is an obstacle to the two-model approach, citing the recent case of a holiday apartment in central Barcelona that had been rented out by a group of young men who were playing indoor soccer until the early hours, much to the annoyance of local residents.
Taking a hard line, Hallé, of the Magma Tri consultancy, insists that the way forward is to do away with the black market in holiday rentals. "The idea is to flush out owners who are not declaring their income from letting out properties. But it will be very difficult to do that because it is hard to know who they are. Perhaps what is needed is some kind of amnesty."