Patricia McCormick: a lady in the macho world of the bullring
The first American female matador has died at the age of 83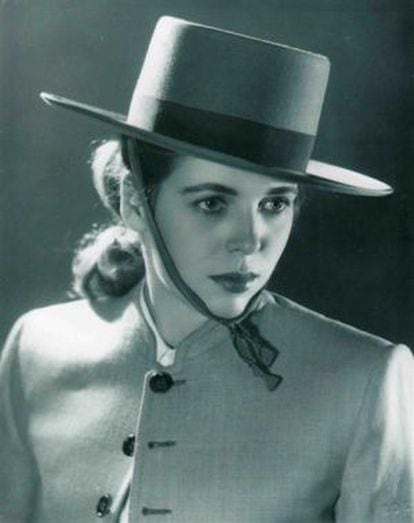 "It's an art, a science, a ritual, a mystery... it's more spiritual than physical. This is what the bullfight is - anything but a sport." This was how Patricia McCormick, born in St Louis in 1929, described her art in her autobiography.
She was 13 when she entered the bullfighting world of the border region, and she made frequent visits to Ciudad Juárez to see fights. McCormick was considered the natural heiress to the Chilean Conchita Cintrón, a legend of the ring. In Peru, fans of that sword-wielding lady criticized the American for what they saw as the coarseness of her style. In 1956 McCormick spoke up for herself in Sports Illustrated magazine: "Yes, but she goes on horseback and dismounts only to finish off the bull. I do the whole thing on foot."
The controversy was left unresolved, because Cintrón hung up her "suit of lights" (the sequined matador costume) in 1950, a year before McCormick's public debut in Ciudad Juárez. The following year she began to make the bullring her way of life, but she never wore the suit of lights, preferring the equally traditional Andalusian cattleman's suit.
Carlos Arruza, a star of the Mexican ring in the 1950s, was unstinting in his praise of her valor: "She takes on larger bulls than any other woman does... Her only defect is being a woman." In spite of this recognition, no matador cared to break with tradition and allow her to compete on equal terms. McCormick remained active in the ring until 1962 and was seriously wounded several times in her career: in September, 1954 she almost lost her life when a bull's horn went through her stomach, lifting her off the ground for almost a minute.
In 1989 she told the Los Angeles Times that she received the last rites from a priest, and the doctor ordered her to be taken across the border so she could die in her own country. "They say that if it had happened before penicillin, I would have died."
The Mexican critic Rafael Solano considered her "the bravest woman I ever saw." Her fame was based on valor. Her appearances were mostly near the US-Mexican border, but also in other countries of taurine tradition such as Peru, Colombia and Venezuela. In total, she fought some 300 times.
McCormick later spent more than 40 years in various parts of California, often in reduced circumstances. In 2007 the state of Texas made a documentary in her honor, and created a museum devoted to her in Big Spring, featuring photos, suits and souvenirs of the bullring. She died in the Texan town of Del Río on March 26, at the age of 83.