OPERATION PUERTO
Puerto blood doping trial begins
International media descends on courthouse in wake of Armstrong confession World Anti-Doping Agency watching keenly to see if case goes beyond cycling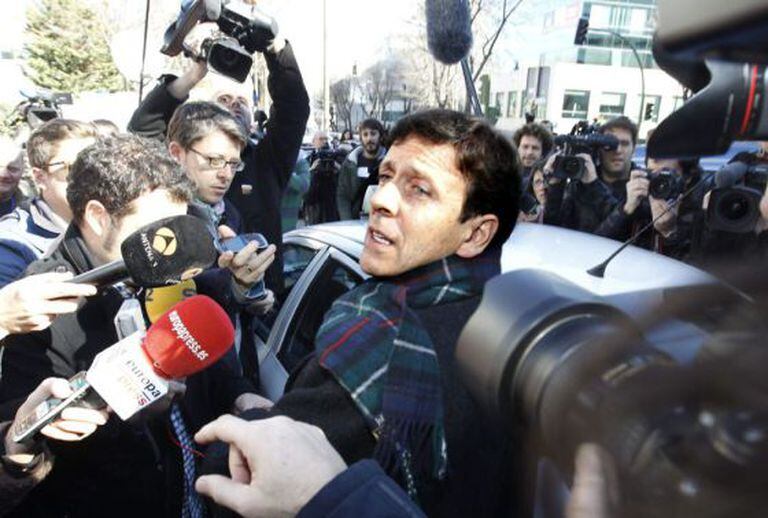 Of the 50 million or so liters of blood the World Health Organization says is stored annually around the world, the Operation Puerto trial that began on Monday in Madrid will concern itself with a few dozen. But what a few dozen: all of it bespoke blood retailing at more than 1,000 euros per liter, all taken from world-class athletes, namely cyclists, and all designed to make them perform even better.
Operation Puerto, which blew up in May 2006 when the Civil Guard raided addresses in Madrid, Zaragoza and El Escorial, involves 200 bags of blood that Eufemiano Fuentes and his alleged co-conspirators kept frozen or refrigerated in Madrid apartments. The case has drawn considerable media attention with doping in cycling in the spotlight once more, after Lance Armstrong's confession on Oprah. Under the gavel of Judge Julia Patricia Santamaría the lid is expected to be lifted on a doping operation to match that of Armstrong's US Postal Service team in its scope and ingenuity. However, there are suspicions that Puerto went beyond cycling and might have involved athletes from a range of different sports.
Fuentes, the key suspect, is expected to testify on Tuesday after preliminary matters accounted for most of Monday's session. Fuentes' sister Yolanda, a former doctor to the Comunidad Valenciana cycling team, is also in the dock, as are the directeurs sportif José Ignacio Labarta (Comunidad Valenciana), Manuel Saiz (Liberty) and Vicente Belda (Kelme). A sixth accused, José Luis Merino Batres — a hematologist who operated a clinical analysis laboratory in a building where Fuentes also owned an apartment — will not face charges because he suffers from Alzheimer's disease.
Among trash deposited outside the building at night, investigators found tools for the extraction, conservation and transfusion of blood. Subsequent surveillance recorded a large number of athletes entering the apartment block.
Surveillance of Fuentes' apartment block recorded a large number of athletes coming and going
All are accused of involvement in the blood-transfusion ring, which began in 2001 under the direction of Fuentes, who had published articles on hematology in the Spanish media in the 1980s. The scheme took shape after he had licensed a method for detecting EPO, which increases the flow of oxygen through the bloodstream.
But although doping is once again in the courts, blood is the matter on trial in Santamaría's case. The defendants face charges of crimes against public health, as doping was not outlawed in Spain until November 2006. Defense lawyers lodged written statements last year to the effect that as blood is not a drug and the transfusions were carried out consensually and in optimum medical conditions, the Civil Guard should never have staged its investigation in the first place.
Many cyclists have been called as witnesses in the case, including Alberto Contador, who raced for the Liberty team between 2004 and 2006 and was last year stripped of one of his three Tour de France wins and banned for two years, effected retroactively, by the Court of Arbitration for Sport in Lausanne for a positive clenbuterol sample at the 2010 Tour. Contador and other big-name riders including Ivan Basso, Michele Scarponi and Jan Ullrich are among the over 50 riders implicated. Ullrich retired in the face of the allegations while Basso received a two-year ban. Contador was cleared of any wrongdoing. Both are due to testify next month.
Alejandro Valverde is the only Spanish rider to date to have been banned as part of the Puerto investigation. The CAS upheld an appeal from the World Anti-Doping Agency (WADA) and the International Cycling Union against a Spanish Cycling Federation decision not to proceed against the racer, handing down a two-year ban effective from January 2012.
Fuentes has previously stated that his client list included athletes from other sports, including soccer and tennis
The key witness, though, is Jesús Manzano, who blew the whistle on illegal performance-enhancing activities he was subjected to while a rider at Kelme. Manzano collapsed on a climb on the Col de Port at the 2003 Tour having been injected with a dose of Oxyglobin that morning, according to his testimony in a March 2004 interview with AS. He was airlifted to hospital after suffering near-fatal dehydration that he attributed to the injection.
Manzano's accusations against Fuentes go further still, and have sparked the interest of WADA. According to the Spanish cyclist, athletes and soccer players were also on the sports medic's client list. WADA has requested that all pertinent information from the case be handed over to determine how deep the Puerto ring penetrated into Spanish sport. It has also asked that all the names of athletes linked to Fuentes be revealed. So far only cyclists have been named in the case.
Fuentes has previously stated that his client list included athletes from other sports, including soccer and tennis.
Identifying them will not be easy; Fuentes used a complex system of codenames for his clients, many of which investigators have been unable to decipher. The trial is due to run until March 22.