EURO CRISIS
Rajoy rules out need for immediate bailout
PM says Spain may ask for European assistance if it needs to in the future Spanish leader welcomes European banking union agreement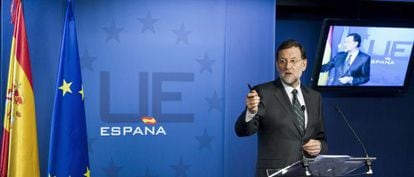 Prime Minister Mariano Rajoy on Friday ruled out the need for Spain to ask the European Stability Mechanism (ESM) for a bailout any time soon.
"For the moment we don't need it," Rajoy said in an interview with SER radio station. "If we need it, we will use it," he added.
Seeking assistance from the ESM is a prior condition for the European Central Bank to intervene in the secondary market by buying the sovereign debt of financially strained countries.
At a later news conference on the latest European Union summit, Rajoy repeated his position on the bailout. "For the moment have haven't deemed it necessary and we won't do it. It is possible it may seem opportune to do so in the future."
The Spanish Treasury has covered its funding needs for this year and the funds generated in debt auctions it has held recently will go to cover bonds maturing next year. Spain's risk premium currently stands at around 400 basis points, well below the levels of over 600 basis points registered in the summer before the ECB's pledge to do everything in its power to safeguard the euro.
Rajoy welcomed the ECB's Outright Monetary Transactions program, but lamented the fact that euro-zone countries have to first secure assistance from the ESM in order to activate the bond-buying scheme.
Under the European banking union arrangement agreed by the EU summit overnight, the ECB will be the sole supervisor of banks with more than 30 billion euros in assets, those that are nationalized or whose size is greater than 20 percent of the GDP of the country where it is headquartered. In the case of Spain, more than 90 percent of the banks fall within those criteria.
As a result 16 banks currently under the supervision of the Bank of Spain will now be monitored by the ECB. Those that will remain under the tutelage of the Bank of Spain include private bank Banca March Caja 3 and small savings banks.
Rajoy welcomed the creation of the banking union. "The majority of the Spanish banks will be controlled and that is good for customers and for the banks," he said at Friday's news conference.
Virtually excluded from the wholesale credit markets because of Spain's risk premium, Spanish banks remain heavily reliant on the ECB for funding. According to figures released by the Bank of Spain, local lenders borrowed 340.835 billion from the ECB in November, practically the same amount as in the previous month. They tapped the bank for a record 388.700 billion euros in August.