RACE RELATIONS
Mosque row lures extremist party
The rightwing Plataforma por la Libertad is hoping to exploit social unrest in Madrid town Some locals are opposing Islamic group's plans for new worship center in Torrejón de Ardoz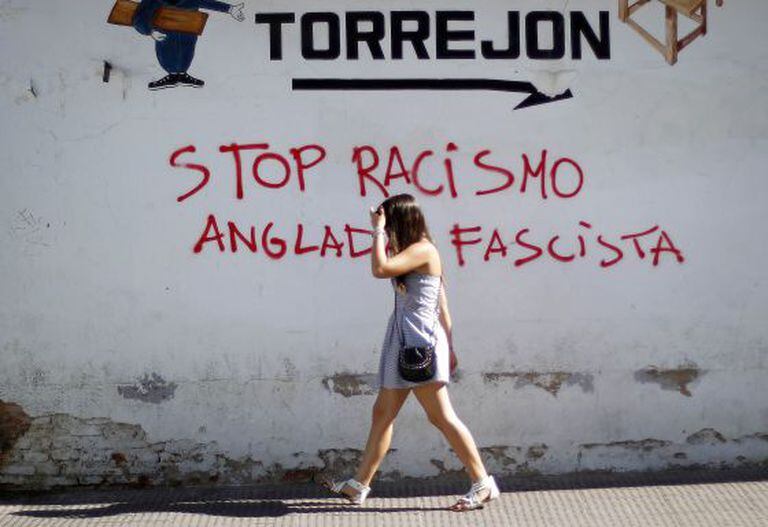 The letters were scrawled on the wall, red on white: "Stop racismo, Anglada fascista" ("Stop racism, Anglada fascist"). Over at Plaza de España, around 100 demonstrators — Moroccan Muslims, sub-Saharan Africans, young leftist Spaniards — were chanting "No human being is illegal."
The reason for Saturday's protest was the news that a political party with a xenophobic agenda is trying to gain a foothold in a town where a fifth of the population is foreign-born. It is a story that Spain has seen before in Catalan towns like Salt or Lleida, but this time it is taking place in Torrejón de Ardoz, east of Madrid.
This city of 122,589 residents recently issued a declaration stating that Torrejón is "an inclusive and integrationist town." Three parties — the ruling conservatives of the Popular Party (PP), the Socialists and the United Left — were thus playing out their union against a newcomer, the Plataforma per Cataluña-Plataforma por la Libertad, whose leader José Anglada is an extreme rightwing politician with a record of violent outbursts. Anglada and his acolytes are trying to cash in on social unrest in Torrejón, where some residents are opposing plans by the Islamic community to move their center of worship to a new location downtown.
For over a decade, this community of around 200 people has been meeting in a former garage located just two streets down from the main square, Plaza Mayor. Now they are planning to build a new headquarters with two floors and a minaret on a plot they bought in the historic city center. But the new An Nur (The Light) mosque is not welcome in the neighborhood.
The residents, who have collected over 2,000 signatures against the mosque according to local authorities, say it's not about racism but about lack of space.
"We are very civic people, but we will not allow a mosque, or a nightclub, or a pub here," said one resident. They argue that the street is a narrow cul-de-sac that would quickly fill up with cars.
The ruling PP, which gave the green light to the transfer last January, is now lining up with the residents and suggesting the mosque should go up in an industrial zone some 3.5 kilometers away.
"Coexistence has never been a problem here, but we are worried that Anglada's party may use the mosque as an excuse to blame the immigrants for the crisis," explained Tatiana Jódar, a 26-year-old psychology student who participated in the street protest.
The story follows a familiar pattern. "The problem lies in finding a spot for minority worship centers like Islam in areas where they are already present," says Jordi Moreras, a member of the Risk Governance Research Center at Barcelona's Autónoma University. Moreras recommends focusing on the "legal dimension" of the issue instead of "unfounded rumors such as residents' fears that their apartments will go down in value or that violence will increase." He also says that Torrejón officials need to make a special effort: "Handling coexistence sometimes means doing things your voters don't like."
The government team in Torrejón now wants to ask the residents of nearby homes before making any future decisions on the location of places of worship in town. But this initiative is borderline unconstitutional, says Moreras.
"That would violate the principle of religious freedom," he explains. "It would be just like letting the neighbors decide who may or may not move into their neighborhood."
"We've always been very well integrated, this initiative is pure racism," claims Said E., the Islamic community's secretary, who declined to have his last name published "to avoid notoriety."
This Moroccan truck driver shows off the indoor soccer cups decorating the entrance of the current Islamic center. They were won by youngsters who are learning Arabic in this former garage, which has a single prayer room reserved for men.
"In the next mosque we have reserved a space and a dedicated entrance for women," adds the secretary, who has been living in Spain for over 10 years.
"I have no problem with the odd Mohammed or Winston Orlando, it's simply a matter of massive immigration," says José María Ruiz, Anglada's man in Madrid. This mild-mannered and impeccably dressed lawyer has been to Torrejón "three or four times" in his life. He explains that "some residents" of that municipality got in touch with them, and that Torrejón was in their area of influence.