Latin Grammy Awards 2023 in Seville: Because Shakira and Rosalía deserve it
On Thursday the 16th, the Spanish city will host the most important awards gala in Spanish-language music. With dozens of stars and the expectation of performances from the Colombian and Catalan songstresses, it is the first time in 24 years that the ceremony has been held outside the United States
One Spanish musician remarked that when he attended the Latin Grammy Awards in Las Vegas in 2019, he realized where he was when he was subjected to the gala's red carpet protocol. In the glamorous but uncomfortable anteroom, journalists from 200 media outlets from around the world were waiting to snag an interview with the passing musicians. Most were nominees or presenters and the objective was to ask them inconsequential questions and to avoid inquiring "and who are you?" And to avoid embarrassment, less well known musicians carry a card with their name written on it. The situation can be taken as a cure for the musician's typical humility or as a somewhat clumsy initiation to the gala. This year, at least the Spanish artists will be able to escape all that, since the gala will be held in Seville on Thursday, November 16. It is the first time in 24 years that the awards have been held outside the United States, and it can be assumed that of the 150 accredited media outlets, the Spanish journalists will be able to identify the artists from their own country and it will be up to the Colombians, Mexicans, and Argentines to carry their name card. The favorites are three Colombians, each with seven nominations: Shakira, Karol G, and Camilo. The Spaniard with the most nominations is Pablo Alborán, who has five.
The sun rises in Seville on Wednesday, November 15, the eve of the Latin Grammys. The temperature hovers around 73 degrees (Fahrenheit) for almost the entire day, which makes the efforts to obtain accreditation more bearable for the 6,000 people who are working at these awards. There is always a certain atmosphere of chaos that forces some artists to wait almost an hour and a half until their passes are found, as was the case for the Brazilian Anitta. It's not so bad for the journalists, who only have to wait an hour. The gala's cooks are having a more difficult time, as for unknown reasons their names are not showing on the computer. They have arrived in Seville from a restaurant in Mallorca. They are hoping that in the end they will be allowed in to be able to serve the 2,000 guests at the Grammy Person of the Year dinner/gala, which this year has been awarded to the Italian Laura Pausini. Everything will happen in the different buildings that make up the Congress and Exhibition Center of Seville (FIBES).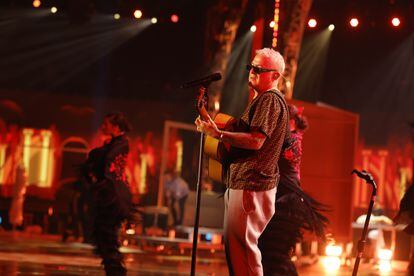 The Latin Grammys were born in 2000 as a sister to the International Grammys, whose first gala was held back in 1959. Advised by Miami heavyweights such as Emilio Estefan, Tonny Motola, and Mauricio Abaroa, the original Grammys agreed to bifurcate their brand "to serve the reach of Latin music." The venue that has hosted them the most often is Las Vegas, but the awards have also been held in Los Angeles, Miami, New York, and Houston. The voters are members of the Latin Recording Academy. "More than 5,000 people from 43 countries," the organization reports, including "musicians, songwriters, producers, and other creative and technical professionals who specialize in Latin genres." The main rule is this: "All songs that are considered for nominations must be new and have a minimum percentage of the lyrics (51%) in Spanish, Portuguese, or any regional indigenous dialect."
In 2010, the gala was scheduled to leave the United States for the first time. And the chosen city was Valencia. The outbreak of a corruption scandal with the involvement of Francisco Camps, then-president of the Valencian regional government, halted the project. Luis Merino, former director of Los 40 Principales (Spanish radio station) and member of the Latin Grammy Academy for years, has attended several galas: "It takes a lot of work to get the Latin Grammys out of the United States, and there has to be a very powerful reason in every sense to move it out of there. It is much easier to put on a show of this type in the United States. There are many more production and lighting companies, they are very used to it, and it is cheaper. And you have an absolute guarantee of services. If you do it in Las Vegas you have transportation, hotels, and so on. They told me that 700 limousines had been hired at one gala. Setting this up in Seville must have been very expensive." About €20 million ($21.7 million), to be precise, which the Government of Andalusia has contributed with some help from the European Union's Regional Development Funds.
There is one more commercial reason to host the awards outside of the U.S., and that is to use Spain as a springboard to expand the current craze for Latin music to the rest of Europe (France, Germany, Italy, and northern Europe). Now that the markets in Latin America, the United States, and Spain have been conquered, it is time for the rest of Europe.
A few drawbacks in this awards ceremony might be pointed out, like is it really necessary to cover so much and include a category for best Christian album? But listing them all would take up too much space and exhaust the reader. These are highly commercial awards, and this means leaving out "the other part of the world." In the melting pot of categories (there are 56) there are some artists that stand out and that do not appear in the lists of the most listened to on the almighty digital platforms such as Spotify. Some of them: Natalia Lafourcade, Valeria Castro, Silvana Estrada, Babasónico, David Aguilar, Israel Fernández, and Dante Spinetta. Among them is AleMor, a Colombian who has entered the Best Pop Vocal Album category with her album Beautiful Humans Vol. 1, competing with established artists such as Pablo Alborán and Camilo. AleMor, (Alejandra More), a 34-year-old Colombian resident in Miami, talks to this newspaper about whether winning a Grammy will change her career. "Completely. I could charge more…" she laughs, and adds: "It opens more doors and creates more opportunities for you, obviously. I almost dropped my coffee the morning they told me I was nominated."
Responding from Mexico, veteran act Molotov say: "We feel comfortable with the awards because we are going to have a good time, see friends, catch up with people we almost never see. We also feel that the artists who should be there are not always in the nominations. On many occasions you find artists who do not exactly fit one hundred percent into the genre they are nominated for. But perhaps it is because a lot of the time there isn't enough music, not enough higher quality music, and not enough nominees to be able to fill these categories properly."
The boycott proposed by J Balvin in 2021 due to the poor representation of the urban genre is now forgotten. The 2023 Latin Grammys have happily embraced urban music and the nominations are full of reggaeton, trap, and rap. As a pop singer-songwriter, AleMor is an exception. She says: "I have not found any obstacles in my career due to being a woman and Latina, but I have found a lack of space to express my art by making music that is not urban. I have nothing against the urban genre, but I do think it takes up too much space and overshadows other styles that are beautiful." The urban genre is dominant in the world and awards that are so attached to the market cannot do anything other than follow the trend. The Mexican-American composer and producer Edgar Barrera, who has garnered the most nominations (13), gives EL PAÍS an insight into the fervor for singing in Spanish: "I worked with The Weeknd recently and he wants to do something in Spanish."
The Grammys ceremony is basically a television show. This year only professionals and guests will attend. "Due to capacity limitations, the 24th Latin Grammys ceremony will not have tickets available for the general public. The majority of attendees will be nominees and people from the Latin music industry," the organization reports. The Congress and Exhibition Center of Seville has 4,000 seats. And since a gala of this type is worth what its guests look like, the organization has put all its energy into displaying the biggest stars of the moment on stage. They have achieved it. Just seeing Shakira and Rosalía's performances is worth going to work on Friday feeling sleepy. They say that the Catalan singer is preparing something in tune with International Flamenco Day, which is also celebrated on November 16. We shall see...
Around twenty artists will also perform, including Rauw Alejandro, Bizarrap, Pablo Alborán, Maluma, Camilo, and Alejandro Sanz. Karol G, another of the ceremony's stars, with seven nominations (like Shakira and Camilo), will be in Seville, but will not perform. The only performer missing will be the current god of Latin music, Bad Bunny. The Puerto Rican has five nominations, but the organization is not aware that he will appear. The awards themselves will be presented by the Colombian musician Sebastián Yatra, the Mexican singer Danna Paola, and the actresses Roselyn Sánchez, from Puerto Rico, and Paz Vega from Spain.
And don't be scared if you are going to follow them on television: of the 56 categories, only the most important dozen or so, will be awarded at the gala. The rest will be done in a non-televised ceremony.
The Latin Grammy 2023 most nominated
Edgar Barrera (songwriter and producer): 13 nominations.
Shakira: seven nominations.
Karol G: seven nominations.
Camilo: seven nominations.
Kevyn Mauricio Cruz Keityn (songwriter and producer): seven nominations.
Bizarrap: six nominations.
Pablo Alborán: five nominations.
Bad Bunny: five nominations.
María Becerra: five nominations.
Feid: five nominations.
Natalia Lafourcade: five nominations.
Main nominations of the Latin Grammy 2023
Song of the year
Amigos - Pablo Alborán and María Becerra
Ella baila sola - Eslabón Armado and Peso Pluma
Shakira: BZRP Music sessions, VOL. 53 - Shakira
NASA - Alejandro Sanz and Camilo
Si tú me quieres - Fonseca and Juan Luis Guerra
TQG - Karol G and Shakira
De todas las flores - Natalia Lafourcade
Ojos marrones - Lasso and Sebastián Yatra
Recording of the year
No es que te extrañe - Christina Aguilera
Carretera y manta - Pablo Alborán
Déjame llorarte - Paula Arenas and Jesús Navarro
Shakira: BZRP Music Sessions, vol. 53 - Shakira
Si tú me quieres - Juan Luis Guerra
Mientras me curo del cora - Karol G
De todas las flores - Natalia Lafourcade
Ojos marrones - Lasso
La Fórmula - Maluma y Marc Anthony
Despechá - Rosalía
Correcaminos - Alejandro Sanz
Album of the year
La cu4rta hoja - Pablo Alborán
A ciegas - Paula Arenas
De adentro pa afuera - Camilo
Décimo cuarto - Andrés Cepeda
Vida cotidiana - Juanes
Mañana será bonito - Karol G
De todas las flores - Natalia Lafourcade
Play - Ricky Martin
Eadda9223 - Fito Paez
Escalona Nunca Se Había Grabado Así - Carlos Vives
New artist
Borja

Divine Connection

Ana del Castillo

Natasha Felcao

Gale

Paola Guanche

Joaquina

Leon Leiden

Maréh

Timo
See the complete list of nominees for the 56 categories in the Latin Grammys official website. The spectacle will be broadast in the U.S. on Univision, UniMás and Galavisión at 8 p.m. ET. (in Spain, on TVE's La 1 at 10:30 p.m. CET).
Sign up for our weekly newsletter to get more English-language news coverage from EL PAÍS USA Edition