70 years of Pierce Brosnan, the Bond whose tragic life was transformed by a suit
The Irish actor had a difficult childhood, marked by his parents' absence. Despite his success, his life story has been marked by a series of difficulties: the death of his first wife in 1991 and his daughter in 2003
To win the role that would make him famous, all Pierce Brosnan had to do was put on a good suit. The eighties had just begun, and he and his first wife, Australian actress Cassandra Harris, had put a second mortgage on their home in Wimbledon, London, to try their luck in Los Angeles. In 1980, Brosnan had made his film debut with a nameless part in The Long Good Friday, in which he played Irishman Number 1, an IRA assassin who pointed a pistol at Bob Hoskins. A year later, he had received the starring role in The Manions of America, a miniseries about the drama of Irish immigration during the great famine. With that CV in hand, he and Harris moved to the city of the stars. Borsnan rented an old lime-green AMC Pacer, at $50 a week, to attend his first audition. On the way, the car broke down. Brosnan walked to the audition through the hills of Laurel Canyon, an idyllic Los Angeles neighborhood with cabins among the trees, just five minutes from Hollywood. He arrived, and he got the role. The suit was everything.
The part wasn't for James Bond, the character who would accompany him for posterity, but a role in the television series Remington Steele. He played a young adventurer who worked for a peculiar detective agency. The show turned into a star both in the United States, where the series became a hit, and beyond. Today, it's impossible to look at the images from the series, in which Brosnan appears in a black suit jacket and bow tie, and not see a glimpse of the eternal 007, though 13 years elapsed between the roles. During that time, he experienced the death of his wife and the mother of his three children, who moved with him to Hollywood and introduced him to the producer of the films who would make him an icon. Unlike the mischievous secret agent, and his image as an old Hollywood charmer, Brosnan is a family man with long-lasting, solid relationships who prefers calm to the spotlight.
Born in Drogheda, one of Ireland's oldest towns, he did not have a happy childhood. "Childhood was fairly solitary," he said in a 1997 interview. Brosnan was the only child of May Smith, a nurse, and Thomas Brosnan, a carpenter: "I grew up in a very small town in southern Ireland. I never knew my father. He left when I was an infant, and I was left in the care of my mother and my grandparents. My mother was very courageous. She took the bold steps to go away and be a nurse in England. Basically wanting a better life for her and myself. My mother came home once a year, twice a year." In his mother's absence, Brosnan's grandparents raised him. When they died, he went to live in a lodging house owned by a woman named Eileen. "She had a place in a poor part of town. She had her own children and I moved upstairs with the lodgers, all grown men with jobs. One worked in the mill. One worked in a bank. The three lodgers stayed in a long room with iron beds with old mattresses. At the end of the room, there was my little bed, with a curtain around it, so the light wouldn't shine in when the older guys came home," he told The Guardian.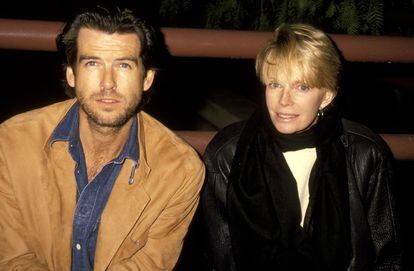 In 1964, at 11 years old, he moved to the British capital to live with his mother and her new husband, William Carmichael. "The reunion with my mother was joyous. Finally, I had my mother," he would say years later. His stepfather became a paternal figure: together they went to see Brosnan's first Bond movie, Goldfinger, with Sean Connery as the spy. "I can discard what my father did because he did nothing. I have a great father —stepfather— in William," he said. Dubbed "the Irishman" by his classmates, Brosnan soon grew interested in the arts. He left school at 16 years old to study illustration at the prestigious Saint Martins school, then went on to study acting for three years at The Drama Center at King's Cross in London, where figures like Colin Firth, Michael Fassbender and Emilia Clarke also started their careers.
In the seventies, Brosnan met Cassandra Harris. "Before you knew it, we fell in love," the actor said. Harris was Australian, and she moved to London with her two children, Charlotte and Christopher, who Brosnan adopted. "It just felt so right. I didn't feel like a father, I wasn't a father; I was just Pierce. And then I became Daddy Pierce. And then I became Daddy." Perhaps because of the difficulty of his childhood, the actor never hid his intention to form a family and be a present father for all his children. "I want my children to have love in their life when they are young. I want them to know the true meaning of love," he said later. Brosnan and Harris married in 1977. In 1981, Harris became a Bond girl in the film For Your Eyes Only, starring Roger Moore. Thanks to that role, Brosnan met Albert R. Broccoli, the producer of the saga. In 1983, the couple's third child and the actor's first biological child, Sean Brosnan, was born. In 1987, while Brosnan filmed a movie in India, Cassandra fell gravely ill. Shortly thereafter, she was diagnosed with ovarian cancer. She died in 1991, at 43 years old. Brosnan was widowed and left with their three children. "It was and is a terrible loss," Brosnan said. "How do you carry on afterwards? Slowly. Very, very, very slowly. It hurts. And you have to sit and endure it. There's nothing else to do; it won't go away."
In 1994, his life took a big turn. Brosnan was announced as the next James Bond after Timothy Dalton, who played the M16 agent in only two films. Rumors that he would be the next 007 had been circulating for years, since his late wife had played a Bond girl and Remington Steele's cancellation in 1986. Curiously, those rumors reignited the audience's interest in the series, which was renewed. Brosnan had to return. Two films later, he was finally confirmed as the secret agent. He was the fifth James Bond in history, and he played the character for four films.
That same year, Brosnan also met the journalist Keely Shaye Smith as both of them spent the summer in Mexico. They began a relationship. "I found a great woman in Keely Shaye. Not if I searched a million times over would I find one as good," he told People Magazine. In 1997, their first child together, Dylan, was born. In 2001, they were married in Ireland. That year, they welcomed another child, Paris. Together, they are one of the most solid couples in Hollywood, with a relationship that has lasted 29 years. Brosnan calls his wife his "North Star." On the secret to their marriage, he told People, "solving problems day in, year after year, liking each other, getting on with each other." But in 2003, another tragedy befell Brosnan: his daughter, Charlotte, died from the same kind of cancer that ended her mother's life.
A lot can happen in seventy years. Today, Brosnan spends his days alongside his wife in Hawaii. The actor has revealed in interviews that he has returned to his first passion, painting, to which he dedicates most of his time. In addition to his four children, he has four grandchildren. Like any good grandparent, he shares photos of them on Instagram. Last time he wore a suit was for his son's graduation in early May. Now he prefers black cotton t-shirts.
Sign up for our weekly newsletter to get more English-language news coverage from EL PAÍS USA Edition