Susan Mailer: 'I no longer feel my father's shadow following me around anymore'
Writer Norman Mailer's busy lifestyle shaped his family's life. In her memoir, the eldest of his nine children discusses her relationship with the great New York author
"I can't be the father you want me to be. My mind is captured by my ideas and the need to write them down," New York writer Norman Mailer, one of the 20th century's essential literary voices, often told his daughter Susan. The eldest of his nine children, she is now a psychoanalyst who has lived in Chile since the 1980s. Susan first began to understand what these words meant in 2014, after her father had been dead for seven years, and decided to write a book about their relationship: In Another Place: With and Without My Father, Norman Mailer. It was a liberating journey. The book is not a predictable settling of accounts with her father, but rather a complex journey of light and shadows, and an intimate portrait of a public man whose book launches were attended by John Lennon, Yoko Ono, Woody Allen and the Kennedys (he was a close friend of Jackie's). It tells the story of the daughter who tried to live up to it all. The book is even a testimony of deep love, reconciliation, a lack of sense of belonging and a woman between two forces - her mother and her father - who only ends up finding her own identity after her father has died.
"I never would have written this book when he was alive. It would have been like being Charlie Chaplin's daughter and wanting to be a comedian," says Susan Mailer Silverman, 73, in the dining room of her apartment in Santiago, Chile on a hot summer afternoon, shortly before Christmas (she does not celebrate the holiday because of her Jewish heritage). She lives in South America with her husband, Chilean economist and businessman Marco Colodro. Together, they have three children and four grandchildren.
Susan, who has her father's deep blue eyes, is the only daughter of Norman Mailer and Beatrice Silverman. Beatrice was "a woman born in Boston, a feminist before the feminist movement, an advocate of free love and the use of contraceptives, [who was] absolutely opposed to racial discrimination." When Silverman grew up, she studied medicine. She was a pianist and studying psychology when she met Norman, who combined his studies in aeronautical engineering with literature. In 1943, they secretly married. Soon after that, he was drafted into the Armed Forces at 20 years old. According to his daughter's book, the author said that "the Army was the worst experience of my life and also the most important." At first, Mailer was stationed in the Philippines and then he was moved to Japan. For three years, he wrote his wife almost daily and she kept the letters. The experience provided the material for Mailer's first novel, The Naked and the Dead, which he published in 1948. Considered one of the best books about World War II, it marked Norman Mailer's rise to the forefront of literature. He was 25 years old and his most controversial character – himself – was making his debut.
Susan was born in 1949, and her mother and father's marriage broke up soon after. Before she turned two years old, her father was already in a new relationship with his second wife, Adele Morales; he would be married six times. As a child, Susan frequently shuttled back and forth between her father who resided in New York and her mother who lived in Mexico City with her new husband, who was from Mexico. Her father and mother maintained a friendly relationship for a time - they visited each other with their new partners - but soon they no longer got along.
"That's the reason for my book's title. When I was a child and I was with my father, I would forget Spanish, my mom and Mexico, and when I was in Mexico, it was English and my father that I would erase. When I got older, this became a different emotional and geographical state in another place, a different place from the one in which I lived," says Susan Mailer in Santiago, Chile, where she has made a career as a psychoanalyst specializing in the relationship between the mind and the body. She speaks in perfect Spanish with a Mexican accent, although she has an Anglo-Saxon tone as well.
Norman Mailer enjoyed life and its excesses, which he combined with a prolific professional career. His texts, such as The Fight—his masterful chronicle of the 1975 Ali-Foreman boxing match in Zaire--have been praised around the world. Norman Mailer wrote classics of journalism and literature at a very young age, and he was a fixture of New York's social life. Not a night went by without a party, copious alcohol and, sometimes, a lot of drugs. "Better to expire as a devil in the fire than an angel in the wings," Mailer wrote. Indeed, he could end a play with a beating or bite an actor's ear in the middle of a shoot, which happened during the 1968 filming of Maidstone, the movie he wrote and directed. Like many writers of his generation, Norman Mailer's professional and personal role model was Ernest Hemingway - "the alpha-male," his daughter explains - who displayed his manhood through rudeness, alcohol, fights and women.
Each year, Norman Mailer spent long periods of time in Mexico to be with his first-born daughter. In her book, she details their visits to bullfights--the blood, the pain of the animal, the fear, the violent scenes--in realistic and distressing prose. She also describes luminous episodes, such as the overland trips from Mexico to New York with the motels with swimming pools in which they stayed. And she discusses the pain of separation in the United States: Susan stayed with her paternal grandmother, Fanny, because Mailer's life was not compatible with a little girl.
As an adult, she learned about episodes from the time she spent in the Lower East Side apartment on First Avenue. For instance, when she was not yet 5, Norman and Adele were going out to a party, and Susi - as Norman called her - would not fall asleep. To solve the problem, her father cut off the tip of a pill, made the little girl take it and left her home alone. The next day, the child did not wake up. She looked like a rag doll.
When Susan was 11 years old, a family-defining event took place. Norman stabbed Adele, the mother of his second and third daughters. He did not kill her, and she did not file a complaint, but Mailer was prosecuted on charges of aggravated assault and sentenced to probation. "Whenever someone mentioned his name, the thought was always: is he the one who stabbed his wife? And the second question: was she your mother?" recalls Susan. "To write the book, I had to explore what this event had meant. It was like an earthquake for us, and we were left picking up the pieces until his death." Susan had the hardest time writing the section of the book that discusses this episode.
In her adolescence and youth, Susan had to find a balance between Mexico and the United States. Multiple times, Norman Mailer left one wife for a new woman with whom he fathered more children. The entire family had to get used to crying babies and depressed mothers all over again. Susan and her late stepmother, Norris Church, were the same age.
He could be hard on his children: "Violence was in the air. He never hit me, and he was never rude to us. But… he was overbearing and challenged us in every way," Susan says. She remembers an absent father who was occasionally present. Despite his dedication to his work - "he was always writing" - he tried to take a month off to spend with his extended family. Her father could also be understanding, as he was when Susan got pregnant at age 17, a pregnancy she did not carry to term. Intellectually and physically demanding, Norman Mailer was never much for glamorous New York dinners, although Susan did accompany him on the second of his two unsuccessful campaigns for mayor of New York City. There were evenings with Truman Capote and Dorothy Parker... "He was so brilliant that everything around him paled in comparison. You'd walk into a place with him, and people would pull you aside to say hello," Susan recalls.
"I needed the father and tolerated the writer," but "I could barely stand the provocative character," she writes, referring to what happened in 1971, at the height of the second wave of feminism, when her father was invited to moderate the Dialogue on Women's Liberation event. The panelists were four radical feminists and people like Susan Sontag were in the audience. Norman Mailer was a symbol of misogyny. He often said things like, "I don't hate women, but I think they should be kept in cages." That night, he was so provocative that he was pilloried with insults and rudeness in response. "It was spectacularly violent," recalls Susan, who was a young feminist and sat in the front row that night.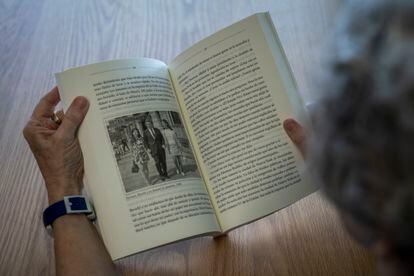 "He enjoyed fighting and confrontation, and he liked to be the center of attention," Susan Mailer eventually understood. At 26, she met Colodro, a Chilean exile and opponent of the Pinochet regime, in Mexico. It was the beginning of a new cycle. She decided to abandon the fantasy of exceptional lives and move with her husband to Chile; at that time, the country was not only far away but also backward, dark and ruled by a dictator. "I realized that it was not necessary to be famous to be seen," she recounts in her book about her difficult acclimation to the country, where she has had a great career but without much public attention. "You are Norman Mailer's daughter, and you have such a normal life?" people often ask her in astonishment. Her father traveled to Chile to see her twice, and she visited him every year in the United States until his death in 2007.
Susan participated in some of the activities in New York to commemorate the 100th anniversary of her father's birth on January 31. She also has an intense schedule of promoting her memoirs, which she first wrote in English and then translated into Spanish. "I freed myself from my dad by writing. I don't feel his shadow following me around anymore. I'm not thinking about whether or not he would approve of what I do. My father's shadow is gone, and [my] father's love appeared, which I miss very much today," she reflects. Susan Mailer is currently working on her first novel.
Sign up for our weekly newsletter to get more English-language news coverage from EL PAÍS USA Edition