Mama Cass: How fatphobia made a mockery of a legend
The iconic singer of The Mamas & The Papas broke barriers in the music industry by succeeding while also defying established beauty standards. Nevertheless, she fell victim to cruel and widespread discrimination based on her weight
A story claiming that the current Paul McCartney is a double replacing the original Beatle after the latter's death in an accident. The assertion that one day Michael Jackson's nose fell off his face. The rumor that Marilyn Manson had his eye taken out in the middle of a concert. The history of pop culture is full of fables and legends that have given the music industry an air of mystery, reverie and nonsense, an aura that is indispensable for establishing itself as an essential part of our collective imagination. Most of these myths do not go beyond anecdotes that the artists themselves tolerate to enhance their legendary status. But the hoax surrounding Cass Elliot of the Mamas & the Papas continues to captivate public opinion even as it perpetuates the fatphobia that shaped her life and besmirched her legacy.
Born Ellen Naomi Cohen, Mama Cass was only 32 years old in July 1974. Despite her age, the young woman from Baltimore had already become a global 1960s countercultural icon and an emblem of the hippie movement as a result of her role as the lead singer of the Mamas & the Papas, the band responsible for hits like "California Dreamin'" and "Monday Monday." She was a single mother and had been married and divorced twice (the first time was to help a friend avoid being drafted into the Vietnam War). After the band broke up, she was looking forward to a promising career as a solo singer. Her tour kicked off with a series of concerts in London; she had scheduled two weeks of sold-out shows. But on the afternoon of July 28, Elliot died of a heart attack while taking a nap in her Mayfair apartment. As with all good rock stars, it didn't take long for rumors to spread about her death: she was expecting John Lennon's baby, it was an FBI plot... But the discovery of a half-finished ham sandwich on her bedside table gave rise to a rumor that not only spread in the media at the time but endured (and has required debunking) for almost a half century after her death: Cass Elliot, who had dared to defy beauty standards during her career, choked to death while eating a sandwich.
As if it were punishing her for the cardinal sin of gluttony, the public did not hesitate to give the rumor its due and accept it as valid. It didn't matter that media outlets like the New York Times published articles in which the specialists who treated Cass refuted the story just a few days later. It was only logical to assume that one of the most famous obese women of her time was a glutton, that she devoured food and choked on it. She became the butt of jokes. "It's been hard for my family with the sandwich rumour. One last slap against the fat lady. People seem to think it's funny. What's so darn funny?" Owen Elliot, the singer's only daughter, said in The Guardian. A quick look at social media confirms that jokes based on that canard still persist today. However, younger generations also seem to want to do her justice: "Make Your Own Kind of Music," her biggest solo hit is now a sudden smash on TikTok, where some users have made the song the soundtrack for their videos. (The show Lost had previously recovered the song.)
Throughout her career, Cass had to face cruel, constant and pervasive fatphobia. She tried to use humor and laugh it off, her friend Sue Cameron recalls. "She covered it up. She was the 'funny one.' It was horrible for her to be thought of as 'the fat one' and Michelle [Phillips] as the pretty one. People would say that to Cass' face. She had to suck it up and laugh." Cass was even mocked in her own band's songs: "Nobody's getting fat, except Mama Cass," the Mamas & the Papas sang in their 1967 song "Creeque Alley." Rumor has it that, in the early days, the band didn't want her because she was overweight. The quartet's founder, John Phillips, confessed that peer pressure to lose weight took its toll on Cass, leading her to go on diets that were as extreme as they were dangerous. These diets ended up irrevocably damaging her cardiovascular system. In 1968, after fasting four days a week and losing up to 55 kilos (about 121 pounds), Elliot was admitted to the hospital. "I've been fat since I was seven and being fat sets you apart," she said.
Sue Cameron, who worked as a journalist for The Hollywood Reporter at the time, wrote the article that linked her friend's death to the ham sandwich. She was commissioned by the singer's manager, Allan Carr, who was trying to save the artist's reputation and avoid hypotheses that associated Cass's sudden death with drug use. The autopsy did not find any narcotics in her system or food lodged in her mouth or trachea. "Many people don't realize that [the ham sandwich story is] not even true. Even though I have said — and written — it's not true, it still goes on. I never thought it would last as long as it has," Cameron says apologetically.
Despite the social scorn she confronted, Mama Cass did not just reach the heights of the folk music scene with her angelic voice; she also became a model of boho-chic aesthetics and broke the barriers of the music industry's body normativity, paving the way for those who followed her like Adele and Lizzo. In the 1960s, few dared to pose nude and tattooed on magazine covers, which left a "significant" impression on the overweight teenage girls of Cass's day. A famous woman unapologetically showing her obese body in the media was an outrage against the morality of the time. As journalist Lexi Pandell observed in Vogue magazine, "Cass Elliot was a woman far ahead of her time. She expressed ideas about motherhood, sex, celebrity, and womanhood that even today would be considered by some to be radical." Cass Elliot's influence was immortalized last October, nearly 50 years after her death, when her star was unveiled on the Hollywood Walk of Fame.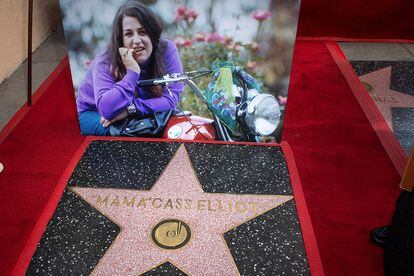 Sign up for our weekly newsletter to get more English-language news coverage from EL PAÍS USA Edition