Bad Gyal: 'There's no need to go telling people what you think of their body'
The Spanish-born singer has just finished recording an album in Miami. EL PAÍS talked to her in Paris, where she explained what her influences are and how she handles herself in the urban music industry
"I've tried a lot of shit looks. I mean, I've got it wrong a lot, but by trying different things I've found my personality," Bad Gyal (whose real name is Alba Farelo i Solé) tells EL PAÍS in Paris, in the dressing room where she is getting ready for the photo session that goes with this article. She has just returned to Europe from Miami, where for the past month she has been recording an album with Scott Storch, who has produced Dr. Dre, Nas, Pink and Lil' Kim, as well as Nely aka "El Arma Secreta" (The Secret Weapon) who has penned reggaeton hits for Daddy Yankee and Don Omar. Gyal says she feels "grateful and very lucky. I'm aware that exploiting my body for my work is part of my character, that I have put myself in this position and that people are going to have an opinion, but what I can't tolerate is people telling me what I should do with it all the time."
Gyal understand the celebration of her sexuality as a tool of empowerment, as well as a marketing instrument. "A few years ago, I was in a moment in my life when nothing motivated me to make me love myself, and then I found some dancehall videos on YouTube, a Jamaican dance that had little to do with me but that I immediately identified with." Dancehall, she says, gave her the confidence she lacked, a confidence that seeing her pose for the camera it is hard to imagine she ever lacked. "Something clicked and I said to myself: 'I'm going to exploit being pretty and I'm going to learn how to move my ass."
Social media criticism has revolved around Gyal's appearance, and the fact she has become famous for being as brazen in her twerking as she is in her songwriting. "I'm too thin, I need a boob job… just leave me alone! And if I want to put on 10 kilos, you'll have my fat ass waving in your face. In 2022 we should have learned that there's no need to go telling people what you think of their body." Even so, Gyal says she has learned not to waste her "sacred energy" on social media spats or to let "the opinion of four assholes" get her down.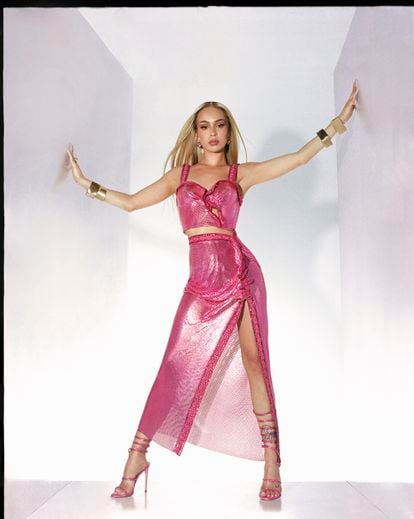 Gyal's image is part of the product she sells and part of its success, and fashion is a fundamental piece of the process. She says she discovered the world of brands and models through EL PAÍS – "I swear, I'm not ass-kissing" she adds – and when her father gave her pocket money she would use it to buy Vogue magazine. She started studying design while working as a telemarketer, a babysitter, a waitress or whatever came her way. Then her first gigs began to crowd her schedule and she just dedicated herself to music. A career that seemed unlikely when she posted a Catalan cover of Rihanna's Work online in 2016, titled Pai. But the song worked and she began recording others such as Fiebre and Indapanden, without the support of a record label, which would not arrive until 2019. Then followed hit singles Hookah and Zorra and collaborations that brought her to the attention of a wider audience: she worked with Rauw Alejandro, El Guincho, Khea and Kafu Banton, a Panamanian dancehall musician with a homophobic song, Pato, that obliged the Spaniard to apologize for working with him. "For people who listen to dancehall and Caribbean music its nothing new that the genre has a lot of homophobic and sexist history behind it," she says. "I want to emphasize that I am against those values and I apologize again."
Although she has always been very visceral about fashion – "I've had my posh phase and my hippy phase" – Gyal says she has been "educated" thanks to the team she works with and her relationship with brands such as Loewe, Coperni and Marine Serre. Last year she also launched a capsule collection in collaboration with Bershka. "I like to surround myself with talented people who share my vision and who I can learn from. People I can get feedback from in music and fashion." Her references and her wardrobe are influenced by the past and the present, as is the music she is listening to at the moment ("I'm interested in the old stuff from the 2000s") and the influence of the early years of the new millennium is evident. "Britney in the old days / I'm original she's a phony" she sings in Spanish on Flow 2000.
"The divas at that time were real divas, they were much freer and they exploited their personality to the maximum. That's my thing. I loved Beyoncé, in terms of beauty, being a goddess and her music. My aunt gave me a Destiny's Child CD and I freaked out. What touches you when you're a kid stays with you forever. I liked Fergie a lot too. I've never really been into the basic stuff."
Gyal is anything but basic but still, in her musical world it is difficult to stand out or build a recognizable identity when almost all of its stars are devotees of the holy trap trinity: hair, huge fingernails and bare midriff. "That's normal. Fashion affects us all. But I think it's good to express yourself in an original way through clothes. To not be all the same, copies of one another. Obviously, we can all be sexy, but how many layers of sexy are there?"
In the endless line to get into the Marine Serre show, Gyal wears an outfit of the style popularized by Alicia Silverstone in the 1997 teen comedy Clueless, with shiny oversized earrings on which a toucan could perch. Short skirt, big earrings: it's the new centennial credo. "I spend more money on old clothes than new clothes: Versace, John Galliano, Tom Ford… In the urban music industry, you have to be ready to stand up for yourself, to say no and to prove yourself all the time. I write my own songs, but there's always someone ready to tell me what to say. But while he's still thinking about it, I've written the intro, the verses and I'm on the chorus. People think you're capable of doing much less than you really can. But it's also funny to see their faces when they see what a writing machine you are."
Gyal says she has few friends in the industry. The ones she considers friends have been with her from the start, like her assistant. "I know there are people who are friendly, I am friendly with everybody. But if one day I needed something, I couldn't give you the name of a single artist I could call."
Perhaps her defensive and combative spirit is, as she acknowledges, what drives her creative process: instinctive and spontaneous, sometimes to kamikaze extremes. "I get to the studio with nothing prepared, but when I'm there I let it all out. It's like writing a diary when you're a kid." She records voice notes with ideas that come to her in case one day she doesn't know what to talk about. But nothing about her is premeditated, she insists. "When I wrote the lyrics for Pussy: 'All of my people pay for their Rémy Martin / Social distancing, we'll kick you out of here,' I did it without thinking. Later I realized it was a positive message, although people might think it's obscene."
However, while in Miami, Gyal started to think about what she wants to say before opening her mouth, so as not to repeat herself. To have more layers. To avoid being pigeonholed. "On this album I collected what I heard, and I listen to everything and everyone: rhythms from Martinique; brega, which is a new genre in Brazil; northern African music, afroswing, Boricua son. What I have in my head is reflected in my songs and how I dress, and right now I'm very into the 2000s, inside and out."
Team credits
Photography:
Alice Rosati
Photography assistant:
Giulia Baroni and Matilde Guicciardi.
Styling assistant:
Carla Ruiz, Maria Bravo, Sonsoles De Carlos and Fernando Gómez.
Makeup and hair:
Fer Martínez (Esther Almansa).
Set design:
Clara de Gobert.
Local production:
Tracey Thomas (De Facto Inc.).