BANKING SCANDAL
Caja Madrid's poisoned credit cards
Savings bank bought off directors with no-questions-asked approach to expenses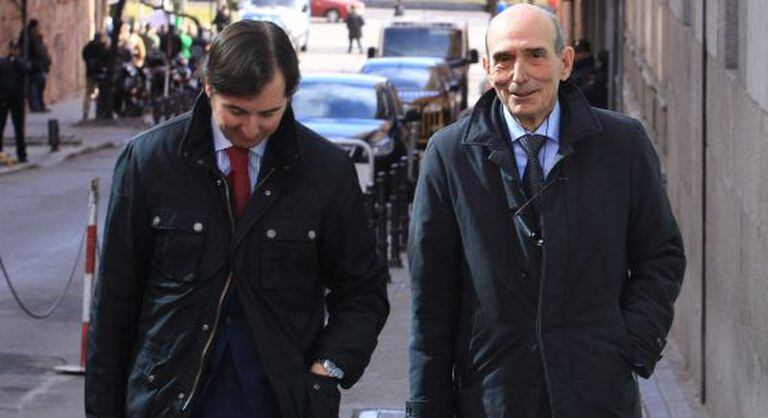 How do you persuade 27 board directors of all political stripes to use a credit card to spend a total of €15.5 million over more than a decade without informing the Tax Agency, without any accounting procedures, and without anybody finding out? How do you make a former treasury secretary believe you have an arrangement with the tax man allowing some of your board members €254,000 a year in personal expenses, a story he doesn't bother to check?
The first 27 of 82 Caja Madrid and Bankia board members being investigated by the courts for misusing "black" credit cards issued by the savings banks have told a judge they didn't believe they were doing anything wrong, and that the bank was paying the taxes due on their personal expenses. This is a version of events that the judge in question, Fernando Andreu, has found hard to swallow.
The majority say the bank assured them they could spend the money on what they liked, and that therefore they were not doing anything wrong
Some of those former board members, appointed through agreements between Spain's main political parties, now say that they are "uncomfortable" with their position – people such as Virgilio Zapatero, a former Socialist Party government minister, who at least held on to his receipts. Others, like Javier López Madrid, CEO of the OHL construction group, have admitted their guilt: "It is clear that I have done wrong, but I thought that the card was Caja Madrid's. For three months I sent in receipts, but they told me not to," he said. The majority of his colleagues are still arguing that the bank assured them they could spend the money on what they liked, and that therefore they were not doing anything wrong.
But the public prosecutor's office recognizes different levels of guilt and has not asked labor leaders Juan José Azcona, who spent €96,000, to post a civil bond. Nor will Rodolfo Benito, who spent €146,000, or Gonzalo Martín Pascual, who spent €129,000. Similarly, Guillermo Marcos, appointed to represent Spain's SMEs on the board, won't have to either. The four all explained to the investigators' satisfaction that their spending was related to their professional activities.
The approach was based on telling new directors what they wanted to hear: "The bank pays all corresponding taxes for each board member"
Caja Madrid's two former chairmen, Miguel Blesa and Rodrigo Rato, used a subtle strategy to ensure that a wide range of figures fell under their influence. Many of them had no real need for further wealth and already had a high professional level, but their positions were jeopardized once they accepted the black credit card. The policy meant that Blesa and Rato's decisions were rarely challenged, partly thanks to this ploy.
Blesa and Rato's approach was based on telling new directors what they wanted to hear: "The bank pays all corresponding taxes for each board member," José Manuel Fernández Norniella, a former deputy president of Caja Madrid, told investigators. This is the defense the judge has heard most often. But so far, nobody has managed to explain why they didn't bother to check why their expenses were not included in the certificate of tax withholdings issued by the bank at the end of each financial year.
Caja Madrid and its successor, Bankia, were the holders of the cards issued to their board members, and did their best to have the expenses written off, something the treasury was prepared to do so in 66 percent of the cases. "This proves that the treasury knew what was being charged to this account and that it never ordered an inspection of any of our directors," says one of the former board members. In turn, the treasury says that tax inspectors were not looking for personal misuse, but only wrongdoing on the part of the bank, which it fined.
According to former board members, Enrique de la Torre, a former secretary of the board under Blesa, told all directors that there was an understanding with the Tax Agency to give the appearance of legality about what was going on. But anybody who could be bothered to ask a few simple questions would understand that if these were personal expenses they would be subject to income tax.
Luis Blasco, the current president of Telefónica Argentina and a member of the board of directors of Real Madrid, was unable to explain to Judge Andreu why much of the €51,689 he spent went on luxury shopping items, and meals that in some cases cost more than €1,000. And of course once the board members crossed the line between professional expenses and personal splurges, they were, to all intents and purposes, in the pockets of Blesa and Rato.
The pair imposed a pact of silence on their board members. "When we asked during board meetings about the use of the cards, we were told that the matter was only to be discussed in private," says Alberto Recarte, an economist and journalist put forward by the PP to sit on the board of Caja Madrid. Conversations about how the off-the-books cards could be used were one-on-one, which again should have raised suspicions among board members. One of the reasons these conversations were kept private was because some board members had much higher spending limits than others. Board members of Caja Madrid functioned on a need-to-know basis "We never discussed issues such as how much the chairman was paid," says Antonio Romero, a former board member proposed by the Socialist Party.
This code of silence dated back to 1997, when Miguel Blesa was appointed under the Popular Party government of Prime Minister José María Aznar, with the blessing of the opposition parties. Blesa soon increased the amount that board members could spend on personal expenses each month, and he also did away with any accounting procedures.
This code of silence dated back to 1997, when Miguel Blesa was appointed by the Popular Party government
Blesa had already attended a meeting in October of 1995 with Esperanza Aguirre, the PP's former head of the regional government of Madrid, of the board of Caja Madrid at which it was made clear to him that directors' credit cards were only to be used in relation to spending directly related to company business. "These costs were at that time subjected to strict controls," Jaime Terceiro, the president of Caja Madrid at the time, told judge Andreu.
Aside from what they chose to use their credit cards for, all Caja Madrid board members were paid monthly cash expenses of between €6,729 and €14,319, according to an email sent by Enrique de la Torre. These expenses were supposedly to compensate directors for their time and effort, but they must have seemed like small potatoes compared to what they could do with their credit cards.