Castellón court case adds to woes of Spanish architect Santiago Calatrava
Designer of Valencia's Palau de les Arts named as official suspect in probe into conference center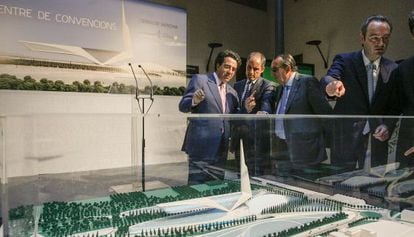 A court in Castellón has called Spanish architect Santiago Calatrava to testify as an official suspect in an investigation into a planned conference center in the Valencian province, a project that never came to fruition but for which the regional government shelled out €2.7 million in preparatory studies.
As well as Calatrava, a number of other public figures have been called to the court, including the former regional secretary for tax and budgets, Eusebio Monzó, the former technical director of a regional project planning body known as SPTCV, Javier de Diego, and the head of Calatrava's architecture office and current under-secretary in the Ministry of Education, Culture and Sport, Fernando Benzo.
The Castellón court is investigating alleged irregularities with regard to contracts related to the planned convention center. The architect visited Castellón in December 2007 to sign an agreement to work on the emblematic building with the former regional premier, Francisco Camps, and the then-mayor of Castellón, Alberto Fabra. A year-and-a-half later, Calatrava presented his plan: a design that would cost €100 million, €40 million more than the regional government had budgeted.
Once seen as one of Spain's star architects, Santiago Calatrava has been immersed in controversy in recent years. One of his most famous creations, Valencia's Palau de les Arts, has been left an eyesore after the regional government was forced to strip it of its entire ceramic shell, after pieces of it began to fall off. Inaugurated in 2005, the project cost €478 million to complete.
But now Calatrava and the regional government are taking their battle to the courts, having come to blows over the length of time the architect can guarantee the integrity of a replacement covering.