Spanish doctors' medical milestone: A heart transplant for baby Naiara
The Gregorio Marañón hospital has performed the first such surgery on a baby aged under one, after the organ had stopped beating and with a mismatch of blood types between donor and recipient
A few weeks ago, in a medical center located many kilometers from the Spanish capital, a cardiology team from Madrid's Gregorio Marañón Hospital was working against the clock to secure a precious gift. The heart of a child – who weighed a little more than three kilograms – had stopped beating, and his parents had agreed to donate it so that another child might live. The recipient was one-month-old Naiara, a premature baby who had been taken to intensive care 24 hours earlier for intubation. Her doctors were running out of options.
The surgery became a medical milestone: it was the world's first heart transplant on a baby aged under one performed using a heart that had stopped and incompatible blood types between donor and recipient.
But the scientific repercussions of the operation were far from the team's minds at that moment, says Juan Manuel Gil, the head of children's cardiac surgery at the Madrid hospital. "It's the last thing you think about," he explains. "You have a baby in a precarious situation, and the only thing you see is a guardian angel giving you a chance, and you get to work thinking 'We have to make it out of this one'."
In Spain we are lucky because of the generosity of people and families as well as the work of the National Transplant Organization

Juan Manuel Gil, the head of children's cardiac surgery at the Gregorio Marañón
And they did. Naiara, who is now two months old, has been transferred out of intensive care and is recovering. "She's doing all right, the prognosis is good," says the surgeon. "Three years ago, this would have been impossible."
In 2018, Gregorio Marañón Hospital launched a program for heart transplants on children with incompatible blood types. But as Gil notes, there have been very few cases of donations in the conditions they were facing. Transplants from donors with stopped hearts of abdominal organs, such as livers and kidneys, were first performed around a decade ago, and the first one involving an adult heart in Spain took place last year at Puerta de Hierro Hospital in Majadahonda (Madrid).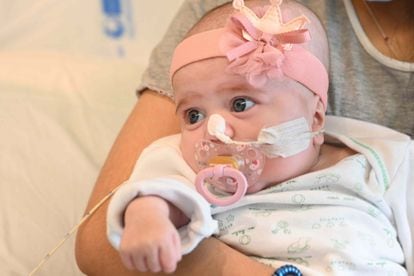 "There are always very few transplants for the number of recipients," says Gil. "In Spain we are lucky because of the generosity of people and families as well as the work of the National Transplant Organization."
For nearly three decades, Spain has been the world leader in this field. In 2019 the country led the way once again for transplants (5,449) and for donations (48.9 donors for every million inhabitants). Even so, people who need a new heart spend the longest time on a waiting list.
"And little children are the most likely to die [for lack of one]," adds Gil. Infants under one year of age are particularly vulnerable, and even more so those under one month of age.
In the last five years, the Gregorio Marañón Hospital has performed 41 transplants on children – seven in 2020, despite the pandemic – and in 35% of cases the patients were under one year of age. "Fortunately very few children die, but the children on our waiting list have few chances of receiving a heart," adds Gil. "That's why increasing the number of donors in the most vulnerable age groups is so important."
Until recently, says this expert, nobody would even consider grafting a heart that had stopped beating several minutes earlier. "In a conventional extraction, what we call brain death, the surgeon finds a beating heart, checks that it is in good condition, stops it, extracts it, packs it in ice and brings it to the hospital."
But when the heart has already stopped, "it first needs to be recovered with a machine similar to what we use in conventional surgeries [ECMO, or extracorporeal life support], and once the heart is beating and confirmed as valid, the protocol is the same."
In Naiara's case, the team flew to the hospital where the donor had passed away to obtain the tiny prune-sized heart and bring it back to Madrid, adding a degree of difficulty to the process. José Ángel Zamorano, a perfusionist who handles the heart-lung machine during surgeries, says that his job is "to be the heart and the lungs of the child during the graft procedure."
According to the hospital statement, the donor's heart had to be recovered twice, not once. And the whole extracorporeal life support machine had to be adapted for such a small patient.
It was not the first time that doctors at the Madrid hospital had helped save Naiara. Even before she was born, physicians in a different part of Spain where her mother lives had detected heart problems. They're the ones who sent her to Gregorio Marañón, a national reference point for congenital heart problems in children.
Doctors opted for an early delivery and the newborn was stabilized while her organs grew to a sufficient size to consider the possibility of a heart transplant. "We told the parents that the chances were very slim, since there are very few donors of that age," said Manuela Camino, another hospital official in charge of children's heart transplants. "But thanks to the incredible generosity of other parents, the chance arrived."
It was just in time, when Naiara's condition had taken a turn for the worse. "Without that heart, her chances of survival would have been very small," noted Camino.
Now that Naiara has turned two months old, she weighs 3.2 kilos – and she's getting bigger every day.
English version by Susana Urra.