THE COURTS
Who planted the rock that left a Spanish mountain biker paralyzed?
A simmering conflict between forest owners and amateur cyclists ended in tragedy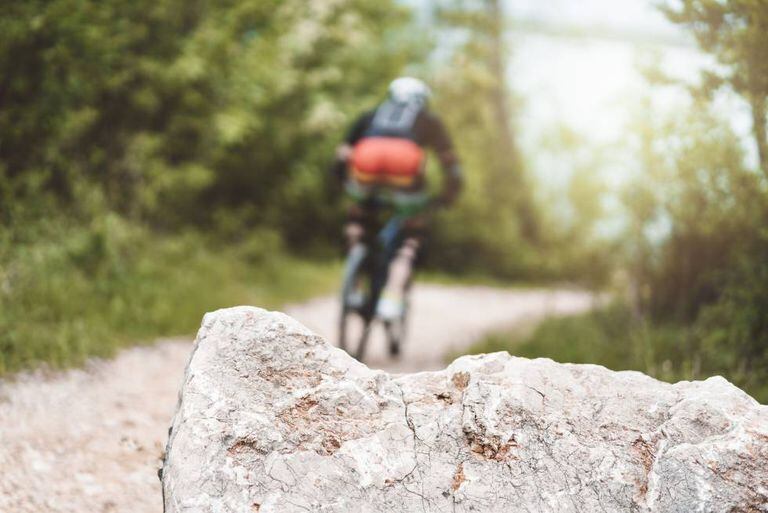 In the hills managed by the association of communal forest owners of Valladares, in the Galician province of Vigo, mountain-biking and occasionally motocross activities have been going on for years. However, the rising number of amateurs using the circuit had begun to annoy many of the hill owners.
On the evening of September 4, 2014, one of these hills became a trap for the cyclists. Coming down one of the tracks at high speed, they were met with large stones and felled trees that could only have been placed there by human design.
Prosecutor
Diego, an amateur cyclist who knew the path and all its obstacles like the back of his hand, saw that the rock he was about to hit was not part of the usual route. But he didn't have time to react. Crashing into it, he was seriously injured and confined to a wheelchair for the rest of his life.
Four years later, the Provincial Court of Pontevedra is trying four men, including the vice-president of the Comunidad de Montes de Valladares association at the time that the sportsman's tragic accident took place.
The prosecution believes he gave orders to association employees to set up obstacles for the cyclists. All of them face prison terms of two years and six months for causing personal injury through recklessness. The private prosecution is asking for six-year terms. The defendants could also be ordered to pay the victim up to €1.2 million in damages and over €100,000 to his wife, for the drastic changes that her life has also suffered.
The association vice-president is charged with giving orders to four employees to set up obstacles for the cyclists
At the court sessions, testimony from several cyclists who also went up Mount Alba that day, and from members of Vigo's local police, suggested that the action was premeditated and intended to "do damage". But as they await a verdict, neither the public nor the private prosecution in the case have managed to decipher the enigma: Who placed the 500-kilogram stone that Diego crashed into?
Although the defendants have denied all accusations, claiming that anyone could have moved the stone, the prosecutor maintains that the vice-president of the forest owners community, who was responsible for the conservation of the hill, acted "with the intention of impeding or at least discouraging the practice of sporting activities."
"To that end, he told the maintenance crew to cut down trees and place obstacles along the way, specifically large rocks,"  said the prosecutor. An inspection of the ground by investigators showed signs that heavy objects had been intentionally moved.
Who placed the 500-kilogram stone that Diego crashed into?
On the day of the accident, at around 6.30pm, there were several rocks on the path. These obstacles were not visible to any oncoming cyclist, said the prosecutor. It was at this time that Diego arrived at high speed on his bike, unaware of the rocks' presence as he executed a jump. He landed on one of them, suffering serious and irreversible injuries that national health authorities have accredited as representing "permanent and absolute disability."
Although there is no direct evidence because no one saw operators felling trees or moving rocks, the private accusation agrees with the public prosecutor that there is sufficient reason to believe that the accident was deliberate. "They wanted to break up the route because they were sick of the cyclists using their hill," concluded the prosecutor. He stressed that "the rock was not placed on the path arbitrarily, but was done in such a heartless, malicious and perverse way that it couldn't be seen from a bike."
The defense lawyers have tried to wave aside the conspiracy theory, insisting on the innocence of the accused and basing their argument on the existence of a crime without a criminal. "We do not know who put the rock there, so it could be anyone."
Although these lawyers have admitted to the bad relations between the forest management association and the cyclists, they claim that the incident on trial is the result of an unlucky accident and that "these cyclists are conscious of the risks that they are taking."
 English version by John Clarke