WEATHER
Snow and ice bring fresh chaos to one of Spain's major freeways
Four major roads have been temporarily closed off while authorities issue dozens of weather alerts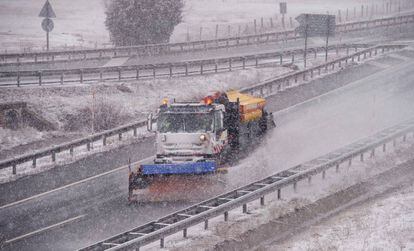 The snow and ice that blanketed half of Spain overnight are creating treacherous driving conditions on hundreds of roads across the country. Several major thoroughfares were entirely closed off due to the snowfall, including the AP-6 and AP-61 (which are fresh out of the traffic chaos of January 6), as well as the AP-51 and A-1.
All four were reopened to traffic on Friday morning, but 23 routes remain off limits to motorists. Snow chains are mandatory on dozens of roads, and authorities are calling on drivers to exercise caution on hundreds more.
Another cold front is expected to hit over the weekend
Spain's national weather service AEMET is forecasting heavy rain along the northern coast and in the Balearic Islands throughout Friday, and warning about strong winds in nearly all coastal areas. There is a risk of avalanches in the Picos de Europa mountain range.
Asturias, Cantabria and parts of the Basque Country are on red alert (extremely hazardous conditions) for snow, while 27 provinces are either on orange (Burgos, León, Palencia, Navarra, A Coruña, Lugo, Álava, Bizkaia and Gipuzkoa) or yellow (Murcia, Pontevedra, Ourense, Lleida, Girona, Barcelona, Segovia, Zamora, Guadalajara, Albacete, Tenerife, La Palma, Gran Canaria, Jaén, Granada and Almería).
The DGT traffic authority has issued an alert for snow-covered roads on 12 tollways, highways and national roads, mostly in the northern half of the peninsula and particularly in Asturias and Cantabria.
Snow and rainfall expected today according to HRES-IFS. It will mostly affect the Cantabrian coast, with heavy snowfall, and parts of the Mediterranean, southeast and the Canary Islands.
Another cold front is expected to hit over the weekend, and the DGT is asking drivers to check the latest weather reports before getting behind the wheel. Iced-over or snow-covered stretches of road are expected on the A-52 (Ourense to Zamora), the A-6 between Lugo and León, the AP-66 between León and Asturias, the A-67 (Palencia to Cantabria), the A-1 going from Madrid through Segovia, Burgos, Álava, Navarre and Gipuzkoa), the AP-15 between Gipuzkoa and Navarre, the AP-10, from Irurtzun to Álava, the N-121 in Navarre; the AP-68 in Álava; the AP-6 in Segovia; the A-2 between Guadalajara and Soria, and the N-230 between Huesca and Lleida.
English version by Susana Urra.