sports
Spanish Super Cup: Cristiano Ronaldo steals the show and then loses it
Hosts Barcelona (1-3) looked adrift against Real Madrid whose Portuguese star is sent off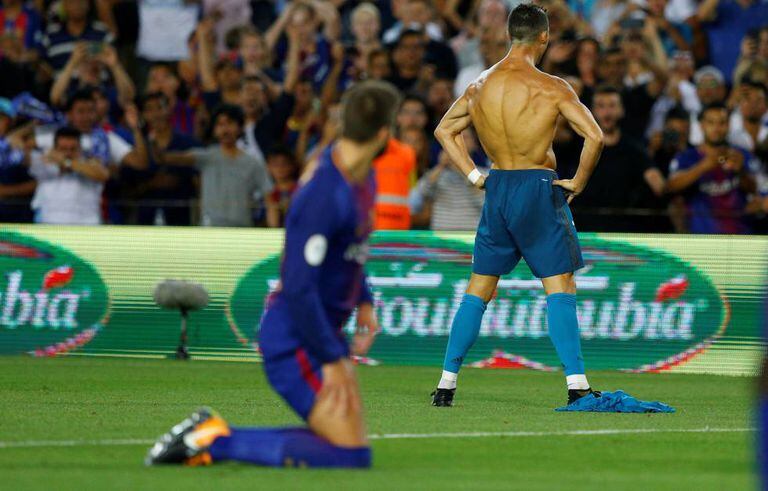 After sitting out a goalless first half of Sunday's Spanish Super Cup first leg between Barcelona and Real Madrid at the Camp Nou, Cristiano Ronaldo took just 24 minutes to steal the show, scoring a dramatic goal for his team and then strutting his shirtless stuff to let opposition fans know who the boss was, a display echoing Lionel Messi's ostentatious celebration at Madrid's Bernabeu stadium last season, but one that earned the Real Madrid star his first yellow card of the game.
Ronaldo strutted his shirtless stuff to let opposition fans know who the boss was
Gerard Pique had put Madrid up through his own goal in the opening minutes of the second half, which was followed by a controversial penalty awarded to Barcelona that Messi converted. But minutes later, the Portuguese international – facing accusations of tax fraud – struck a superb goal into the top corner from 20 yards to put Madrid back in control.
Ronaldo seemed determined to dominate the encounter, and in short order the 32-year-old seemed to take a dive, claiming a penalty before receiving his second yellow card. Undeterred, he responded angrily, pushing referee Ricardo De Burgos Bengoetxea, a moment of recklessness that could mean a further sanction.
After Ronaldo had left the pitch, Madrid substitute Marco Asensio scored the goal of the night, slamming the ball into the back of the net on the run from 25 yards.
The 3-1 advantage enjoyed by coach Zinedine Zidane's team makes Real Madrid the favorites to lift the trophy following Wednesday's second leg at the Bernabeu in the Spanish capital.
The Spanish Super Cup sees the winners of the league play off against the victors of the Copa del Rey (King's Cup) competition.
English version by Nick Lyne.