VENEZUELA
"I've never seen anything like this, a plague has passed through the country"
Protests against the government in Venezuela have seen widespread looting, worsening shortages
Many of the stores in Valencia, the capital of Carabobo state in Venezuela, are graveyards for broken glass. Two weeks ago, hundreds of people looted supermarkets, businesses and even trucks loaded with products. Nothing could have stopped the hordes of people who, for three days non-stop at first, and then intermittently, have decimated the commerce in this province. As well as the damage, there has been another calamitous effect: the worsening of shortages.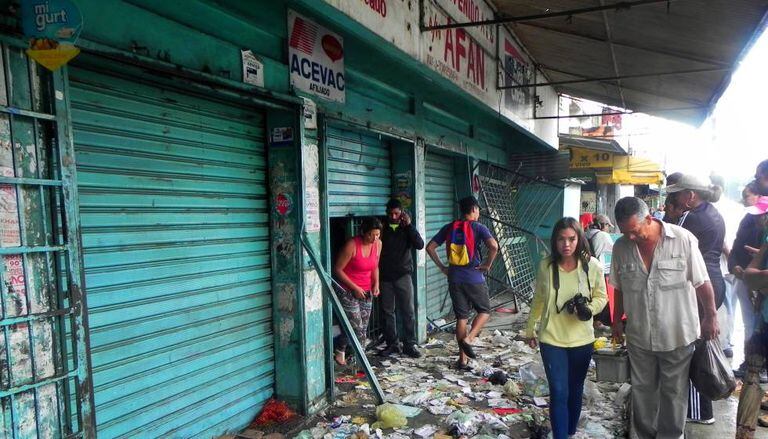 Just over a month ago, when the wave of protests against the government of President Nicolás Maduro was at its peak, and before the unrest began, 86-year-old pensioner Arturo Gómez knew that he would find food in a Chinese-owned store in the municipality of Naguanagua, in Valencia. But now, as he wanders the streets, he gazes with nostalgia at the gutted stores and complains of how he cannot get hold of any food. "Never have I seen anything like this, a plague passed through this country," he says. "What little I can find now costs 10 times as much."
Arturo Gómez, 86-year-old pensioner
The continuous looting in some provinces of Venezuela has served to worsen shortages. Damiano del Vescovo, the president of the Fedecamaras trade association in Carabobo, explains that the food scarcity is only set to get worse after 189 stores and a number of industrial plants were destroyed. "Carabobo is a key state in the Venezuelan economy, given that it represents 30% of the GDP in the country," he says. "The economic crisis has got worse in Venezuela since 2012, but with the growing wave of looting this situation is getting worse and the direct impact will be felt by the people. Not only have small businesses been affected, but also big firms such as the Mocasa food processing plant, which supplies pastries to the CLAP [a plan created by Maduro to sell food at regulated prices], a warehouse belonging to [brewer, food processor and packager] Empresas Polar and other companies."
Betty Amadio's business, which makes cured meat products, has been completely laid to waste. The looters destroyed machinery and even the walls in the processing plant. The company was founded 50 years ago by her father and one of her uncles, both Italians who had fled the economic crisis caused in Europe by the Second World War. "We have got through a lot of crises," she explains. "We supply 70% of the cured meat products in Carabobo and also to other states in the country, among them Falcón and Zulia. The looting will make it difficult to recover quickly and be able to supply the supermarkets in the area."
The looters destroyed machinery and even the walls in the processing plant
The shortages are worse in poor neighborhoods. In Colinas de la Guacamaya, an area in the center of the city, trucks will not go in to distribute food products. "For several years now no one has wanted to go into the neighborhood to sell products, because they're scared they'll be robbed," explains Rosa González, the owner of a small grocery store and mother of four. "Every day I do the rounds of a number of different warehouses in search of food; sometimes I find what I need, and other times I don't."
According to a number of business owners, the government has only offered loans to some of the affected businesses, but no compensation. For now the worst affected are the small companies and hundreds of people who could lose their jobs. Many have tried to deal with these unusual circumstances by beefing up their security. The owners of a number of businesses in Valencia have installed window bars to try to stop any further attacks. "We will not close, but we will protect our supplies from the looters," says a trader in Naguanagua.
The government has only offered loans to some of the affected businesses, but no compensation
But others have changed their plans. Álvaro Fernández, a Venezuelan with Spanish nationality, is considering emigrating after his company selling spare parts for cars, fridges and other electrical appliances was left in ruins by the looting. "My father, who was born in Oviedo [in Asturias, northern Spain], has nearly given up," he explains. "We have had our business taken from us."
Their premises, located in a neighborhood in the center of Valencia, was looted for three days straight. Fernández and a friend saw how dozens of men and women destroyed the warehouse. "The police didn't do anything, and it all played out in front of them," he says. "There are even videos, many of which were posted on social networks, that show the stony faces of officials while they were robbing my company."
English version by Simon Hunter.
More than 40 dead and hundreds injured
Protests against the government of President Nicolás Maduro have descended into uncontrolled violence in many provinces in Venezuela. After six weeks of demonstrations, the death toll this week stood at 44, with hundreds of injuries and arrests. Aside from Carabobo, there has also been looting in the states of Táchira and Miranda, and even in some neighborhoods of Caracas. For Damiano del Vescovo, the president of the Fedecamaras trade association in Carabobo, the situation is even worse than the "caracazo," the violent outbreak of social unrest in 1989. "There is complete anarchy and the economy has never been as broken as it is now," he explains. "The most dramatic part is that no one has any idea when this crisis could come to an end. For now the economic losses are simply incalculable."