Interview
"If we react like Spain in 2004, the terrorists will never win"
EL PAÍS speaks to European Commission Vice President Frans Timmermans about threats facing EU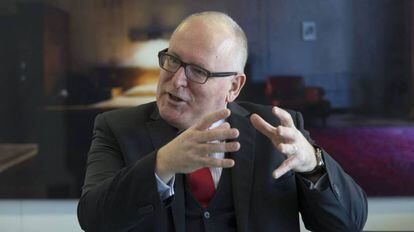 The European Union is currently living through a perfect storm. Added to the cocktail of ongoing crises – the economic one, the wave of refugees, terrorism – we can add Brexit, which has brought about an existential debate in the EU family. The number two at the European Commission, Frans Timmermans, will not be intimidated. A polyglot and a convinced Europhile, Timmermans insists on the need to rebuild the bridges that have been destroyed in recent years. The Dutch social democrat spoke to EL PAÍS on Thursday in an office full of books and modern photography, discussing the European project, which is about to turn 60 years old.
No one, not even the British, thought article 50 would ever be invoked
Question. Terrorist attacks continue to happen. Do we have to get used to this new Europe?
Answer. Terrorism has been a part of European society for a long time. But not all societies have experienced it. In my country people were very impressed by the reaction of Spain to the attacks in Madrid in 2004, which was so calm, without rebelling against a community or a religion. We will learn to cope with it. Terrorist are criminals who hate our way of life. If we react like Spain did, they will never defeat us. If we start to blame a religion or a community, they are already halfway to winning.
Q. Has Europe failed to integrate some collectives?
A. Yes, when there are young people who apparently don't feel part of this society and are willing to kill. But at the same time, I know a lot of young people from immigrant communities whose parents are illiterate and who have one or two degrees. How can you describe them as a failure? They are a success. Extrapolating that small group to the entire Muslim community is a huge injustice. Of course there are problems. But let's not put the entire community in the same orbit.
Q. The EU is going through an existential crisis, whose main symbol is Brexit.
In the north of Europe people think that in the south we are lazy and in the south they think that they are not respected
A. I was at the meeting [that finalized the Lisbon Treaty, with article 50 to leave the EU]. I can assure you that no one, not even the British, thought that it would ever be invoked. It was added to show that the EU was not a prison. Now we have a fundamental paradigm shift. What's more, as it is taking place at a moment when we are suffering the worst economic crisis since the 1930s, and an unprecedented migration crisis, Brexit is becoming a symbol of Europe's failure of achievement. But the reaction is clear: the 27 member states are together on this. In the Netherlands, the countries that called for an exit from the EU stopped mentioning it during the campaign because they knew that the people didn't want it.
Q. Do you think that the elections in your country show a defeat for populism?
A. Geert Wilders did not win the most votes, but the phenomenon is more permanent than we would like to admit. He has won support. And the left really suffered. What worries me is that we are building fewer bridges. We are left with the people who think like us. It's a trend linked to populism, you can see it in the United States and in other countries. But what makes the Union work is that, while we are different, we sit down at the table and find a compromise. We need to return to compromise as a political tool rather than talking about winners and losers in the EU.
Q. Why are those bridges falling?
A. With the crisis, the concept of a moral risk has arrived. The words of Jeroen Dijsselbloem [the president of the Eurogroup, who stated that southern countries cannot spend their money "on liquor and women" and later ask for a bailout] show this. We think according to our cultural baggage and we don't have enough sensitivity toward others. That doesn't help us to build a common future. I thought that we had got over this, but it's not the case: in the north people think that in the south we are lazy and in the south they think that they are not respected. There is a lot of senselessness… If you look at working hours, in the south they are almost twice as long. It's a problem of productivity, not effort.
If we react like to terrorist attacks like Spain did, they will never defeat us
Q. Do examples like this explain the poor results of social democrats in Europe?
A. The reason for being a social democrat is to improve the situation of the people. For that you need a social elevator. And now, for the first time, the middle classes believe that there is an elevator, but that it can only take you downward. All of the premises of our societies, including those of [Spain's former Socialist Prime Minister] Felipe González, are based on improving the situation of the people. Now, the middle class does not want to approach those who are below them just in case they drag them down. That undermines solidarity and damages the socialists.
English version by Simon Hunter.