SPANISH POLITICS
Latest poll sees Socialist Party bounce back, but still trailing Podemos
PSOE only winners in new CIS survey on voter intention, with the Popular Party losing support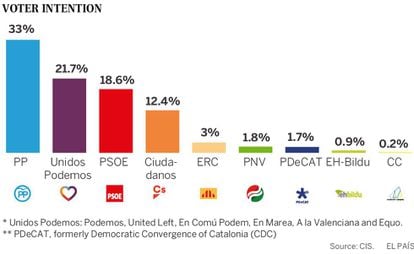 The latest opinion poll carried out by the Center for Sociological Research (CIS) reveals that the main opposition Socialist Party (PSOE) has gained nearly two percentage points in terms of voter intention compared to the last survey, held in October. With 18.6% of voters giving it their support, the PSOE would be the only party to improve its results were a general election to be held, as the governing Popular Party (PP) as well as newcomers Unidos Podemos and Ciudadanos have both lost support among the Spanish electorate, with the three garnering 33%, 21.7% and 12.4% of voter intention respectively.
The poll, which was released by the public research institute on Tuesday, was carried out between January 2 and 12, just at the time of the latest internal battle in Podemos over the direction the anti-austerity party should take.
The PP is currently heading a minority government
It also coincided with the release of a report by the Council of State that recognized the responsibility of the Defense Ministry in the Yak-42 military plane crash, in which 62 members of Spain's armed forces were killed. On the release of the document, the opposition called for the head of the defense minister of the time, Federico Trillo. Shortly afterward, Trillo resigned from his post as Spanish ambassador to the United Kingdom, but denied he was at fault in the Yak-42 affair.
This latest poll has seen the PP, which is currently heading a minority government, lose 1.5 percentage points in terms of voter intention compared to the last CIS survey.
Ciudadanos, which signed a pact with the PP easing the party's path back to government after two inconclusive elections, has also suffered a slight fall in voter intention.
The October CIS poll on voter intention predicted a victory for the PP were an election to be held, with 34.5% of the vote, 12.7 percentage points above Unidos Podemos, which came in as the second-most-voted party with 21.8%. The PSOE, meanwhile – which had just been rocked by the dramatic resignation of then-general secretary Pedro Sánchez and the subsequent internal crisis that was sparked – saw the PSOE fall to third place with 17% of the predicted vote, its worst result ever in a CIS poll. Ciudadanos, meanwhile, was in fourth place with 12.8% of the vote in the October survey.
English version by Simon Hunter.