CONSERVATION
Second dead bear in four months found in northern Spain
Conservationists say death "highlights the true situation" facing the animals in Asturias
The decomposed and partially eaten remains of a brown bear were found on Saturday in Cangas del Narcea, at the western edge of the Picos de Europa mountain range in Asturias, said Spain's Fund for the Protection for Wild Animals (Fapas).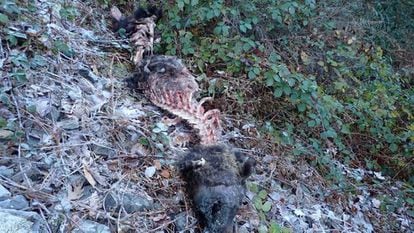 The conservationist organization says it received a telephone call on January 7 from two hikers near the village of Moal, in Asturias. Fapas said the animal had been partially devoured by other animals, but that its head and feet were well preserved, showing that it was a fully grown adult with powerful teeth. The cause of death has not yet been established.
The body was found around 10 meters from a trail used by hikers, close to where another dead bear was discovered in September. That one had been shot.
Fapas said the discovery of the second bear "highlights the true situation" facing bear conservation in Asturias after several decades of protecting the species and a successful fight against illegal hunting.
Fapas says wild boar hunts that began last year in the nearby Somiedo Natural Park in Asturias are a "critical risk" for efforts to protect the brown bear.
The Cantabrian brown bear is classified as an endangered species.
English version by Nick Lyne.