Why 2017 is a crunch year for Spain's four main political parties
After months of stalemate and fruitless talks, leaders must win back voters with a well-defined message
After a political stalemate that lasted nearly a year, the vote that saw Mariano Rajoy reinstated as primer minister put an end to the upheaval – but now that the dust has settled, the scenario that emerges suggests there is still a lot of work ahead for Spain's political parties. After two general elections and months of fruitless talks aimed at building governing coalitions, one political house lies in ruins, two more have just barely been built, and a fourth appears untouched from the outside, yet urgently needs to improve its foundations and internal structure.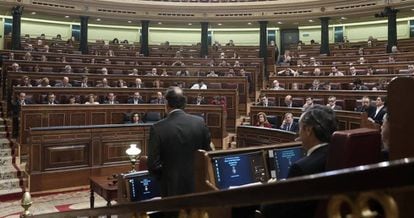 If 2016 was an electoral rollercoaster, 2017 is the year when all four major parties will have to weigh their respective forces at the parliamentary, territorial and social level and decide what they want their own future to look like.
EL PAÍS has spoken to four experts who are familiar with the issues in play yet detached from day-to-day politics, to find out what major challenges the Popular Party (PP), Socialist Party (PSOE), Podemos and Ciudadanos will face this year.
Popular Party
"The PP has the advantage of being in government, which is a much more comfortable position to do politics from," notes Gabriel Elorriaga, a former congressman and communications official for the conservative party. "But being in a minority position, there are new complexities: by reaching deals, you must make decisions that do not represent your preferences."
Elorriaga says that after losing a significant chunk of voters at the last elections, the PP has an urgent task ahead: becoming attractive once again "to an active, middle-aged voter who feels very hurt by the crisis – more in his or her expectations than in reality – and who does not feel well represented."
Socialist Party
José María Maravall, a former Socialist education minister, feels particularly irritated by the laziness he sees in politics – "I want ideas without people, and all I see are people without ideas" – and most notably among social democrats.
"Go jogging, you haven't had a workout in a long time," he advises his former party, which has been under a temporary management team ever since Pedro Sánchez resigned as secretary general in a protest move, and which is set to be leaderless for several months more.
Maravall says the PSOE should stop talking about equality for all, and focus instead on alleviating poverty.
"What's most important these days are the people at the bottom, those who have fallen into the poverty trap," he says. "It's not the inequality of that great mass of people who find themselves just a fraction below average. What's better, a massive tax collection that citizens would not tolerate in order to create a society of identical paper dolls – which is impossible anyway – or a reasonable increase in tax collection that will serve to allay poverty and guarantee the right to essential services?"
Podemos
As for the leftist protest party Podemos, the challenge it faces now is rising to the promises it made when it rode a wave of public anger to secure a sizable spot inside Spanish Congress.
Just like Podemos came, they could go again if they are unable to spell out what it is they want to achieve
Law Professor Javier Pérez Royo
"Podemos filled a space, and that is its great success. The challenge now is filling that space with content, otherwise it runs the risk of disappearing," says Javier Pérez Royo, a professor of constitutional law who nearly ran with Podemos in the general elections.
"In the months prior to their surprise performance at the European elections (of May 2014), they were nothing. But just as they came, they could go again if they are unable to spell out what it is they want to achieve," he adds about a party where the two top officials, Pablo Iglesias and Iñigo Errejón, are at odds over the next steps to take.
Ciudadanos
Ciudadanos, the other protest party to emerge from the economic crisis, is also facing the problem of living up to its campaign promises about a democratic overhaul of Spain's political institutions.
"The center does not exist," says Francesc Carreras, another professor of constitutional law. "Ciudadanos can only define itself by contributing content. It needs to be a social-liberal party that stresses economic liberalism and equal opportunities for all."
English version by Susana Urra.