OPINION
Text in which the author defends ideas and reaches conclusions based on his / her interpretation of facts and data
A bonfire of responsibilities
The Seseña tire dump is a metaphor for a Spain still dragging its past behind it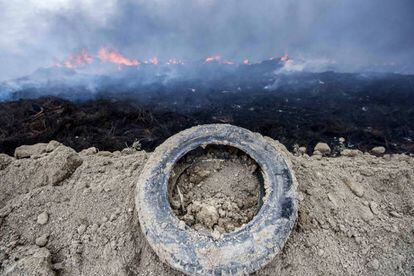 The fire is still burning at the illegal tire dump in the Madrid dormitory town of Seseña. Meanwhile, another blaze – a political one, and therefore much more poisonous – has broken out. It took a couple of days to get going, but is now raging with all the virulence Spain's politicians have us accustomed to.
Seseña's location astride two provinces, Toledo and Madrid, as well as two regions, Madrid and Castilla-La Mancha, has made the political smoke all the more dense and all the more far reaching. What's more, the pall has been made worse by the fact that control of Castilla-La Mancha changed hands not long ago. When it comes to pointing the finger of blame for the disaster, there are any number of candidates, a situation that has served only to fan the flames further. In the end, mark my words, people will put the blame for it all on former Socialist Prime Minister José Luis Zapatero.
I know Seseña and its story quite well, and for me it is the metaphor for a Spain that continues to drag its past behind it like a ball and chain
I know Seseña and its story quite well, and for me it is the metaphor for a Spain that continues to drag its past behind it like a ball and chain. In reality, there are four Seseñas. There's the original village, a tiny agricultural community turned into a dormitory town due to its proximity to Madrid. Most of it was destroyed in the Spanish Civil War, during the battle that bears its name, and which saw Soviet T-26 tanks rumble down its narrow streets – the first time they saw action in the internecine conflict. Then there is the neighborhood that grew up around Seseña railway station, a stop off on the route between the capital and Andalusia constructed in the late 19th century. Next, we have Seseña Nuevo, built by Republican prisoners after the war as punishment for having destroyed the original.
And finally, there is the best-known Seseña, an international symbol of the construction boom that sparked our current economic crisis: the so-called Quiñón de Seseña property development built by the notorious constructor nicknamed "El Pocero," amid the steppes of Castille and that was supposed to be the site of some 17,000 homes, but where, due to the crisis, only half that number were built. And in the middle of it all, a tire dump, the largest in Europe: all in all, a potted history of Spain.
In the coming days and weeks we will hear our politicians huff and puff, blaming each other for a tire dump that was, after all, illegal. And as usual, they will belch smoke, polluting the already unbreathable air of a country with only an acting government and where for some time now the only thing anybody does is blame everybody else.
English version by Nick Lyne.
Sign up for our newsletter
EL PAÍS English Edition is launching a weekly newsletter. Sign up today to receive a selection of our best stories in your inbox every Saturday morning. For full details about how to subscribe, click here.