ART
US ambassador to Spain opens his art collection to the public
James Costos and his partner invite visitors to view the works in their Madrid residence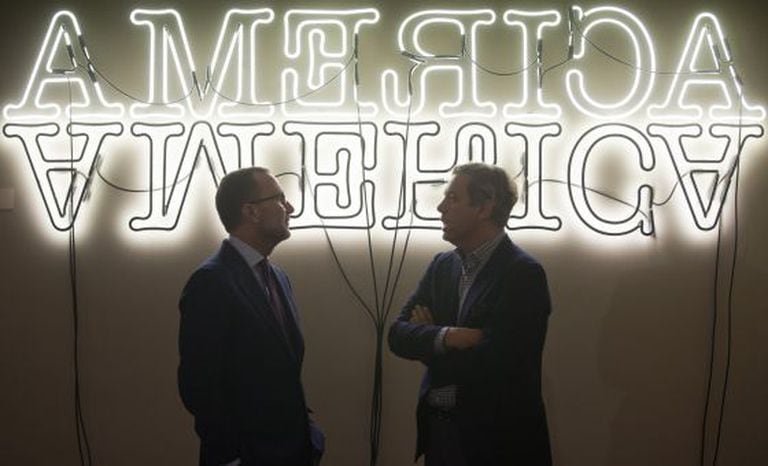 In 1961, then-first lady Jacqueline Kennedy decided that art could serve as a cultural bridge to strengthen the ties between countries. So she introduced a program that is now known as Art in Embassies. Half-a-century later, the US State Department is still running the program at more than 200 diplomatic missions across the globe, with the aim of demonstrating that artistic creation can be a key ally in political brokering.
On Thursday, James Costos, the US ambassador to Spain, and his partner, interior decorator Michael S. Smith, for the first time officially presented the exquisite art collection that graces their private residence at No. 48 Paseo de la Castellana in Madrid.
US Ambassador James Costos
Among the 80 works by US, Latin American and Spanish artists are creations by names such as Philip Guston, Josef and Anni Albers, Pat Steir, Catherine Opie, Philip Taaffe, Willem de Kooning, Robert Motherwell, Antoni Tàpies, Iñigo Manglano-Ovalle, Javier Romero, Esteban Vicente, Antonio Saura and Cristina Iglesias.
Loaned out by museums, galleries, collectors and the artists themselves, the works will remain in the US Embassy until Costos concludes his diplomatic tour of duty – each collection reflects the individual taste of different ambassadors.
The public can view the collection by sending an email request directly to the embassy or through its social network accounts.
Stood on the steps of the spiral staircase in the foyer, surrounded by four of Josef Albers' works, Ambassador Costos explained that the paintings were the "perfect way to showcase extraordinary US artists while at the same time recounting the American dream.
"We selected these works to exhibit the variety of art in the United States, express the diversity of the roots of US artists, and encourage conversations about the art and culture of our country," he continued.
The mixture of paintings by US and Spanish artists is an attempt to demonstrate the common influences that exist on each side of the Atlantic, Costos said, adding that the brainchild behind the collection and its curator is his partner, Michael S. Smith.
Although the program began in 1961, this latest exhibition is the biggest so far, Smith explained.
"In 2008, when I was working with Michelle Obama, I saw that there were many works stored out of the public eye and I thought it would be a good idea if people could get to know them," Smith said.
As such, along with the great US abstract expressionist works, most of the showcase of contemporary art is filled with pieces by painters who come from different backgrounds and have become well known in the United States. Many are the couple's friends, while others have become known to them through their philanthropic activities or because they have an interest in certain themes in their creations.
As an example, the couple pointed to a painting in the dining room by Theaster Gates (Chicago, 1973), who used tar in his work in remembrance of his father who was a roofer.
Another piece featured is by Catherine Opie (Ohio, 1961), whose gay rights activism is present in all her work.
Costos also highlighted pieces by two artists who had to flee Europe and start new lives in the United States: Josef Albers from Germany and Spain's Esteban Vicente.
As if it were needed, before concluding the tour, Costos also provided definitive proof that his love of art is genuine by revealing the highly appropriate names of his two adopted dogs: Greco and Whistler.
English version by Martin Delfín.
At EL PAÍS, dozens of journalists are working to bring you the most rigorous information and meet their public service mission. If you want to support our journalism and enjoy unlimited access, you can do so here for €1 for the first month and €10 from the following month, and you can cancel at any time.
Subscribe