Justice
Garzón to represent Spanish officer charged with killing his wife in Brazil
Embassy security chief must retain his diplomatic immunity, says ex-High Court judge
Suspended High Court Judge Baltasar Garzón will defend a Spanish police chief who last month admitted to killing his Brazilian wife in the South American country, where he was serving as chief of security at Spain's Embassy.
Jesús Figón, a member of the National Police force, has been ordered to appear before High Court Judge Eloy Velasco on June 30 in Madrid to testify about the murder, by which time he is expected to have been transferred from Brazil.
Figón was released by Brazilian authorities on May 12 after confessing to killing his wife, 50-year-old Rosemary Justino Lopes, during an argument.
Foreign Minister José Manuel García-Margallo had previously said that Figón would be stripped of his diplomatic immunity so he could be charged in Brazil.
But Garzón said in a writ obtained by Europa Press that Figón's immunity was guaranteed under the Vienna Convention and cannot be so easily taken away.
"This isn't a question of a privilege given to a Spanish representative abroad, but instead it concerns safeguarding national interests," Garzón told Velasco.
The Spanish Attorney General's Office is against the High Court assuming jurisdiction in the murder case
The internationally renowned Spanish judge, who in 2012 was suspended from the High Court for 11 years for overstepping his jurisdiction in a public corruption investigation, announced he would work pro bono in representing Figón.
Following his release from custody, Figón wrote to García-Margallo, saying that remaining in Brazil without immunity "could constitute a risk to Spain's interests, as well as national security," according to the message obtained by Europa Press.
He asked García-Margallo to reinstate his immunity because it was "the only instrument that can prevent anyone from illegally obtaining sensitive state information."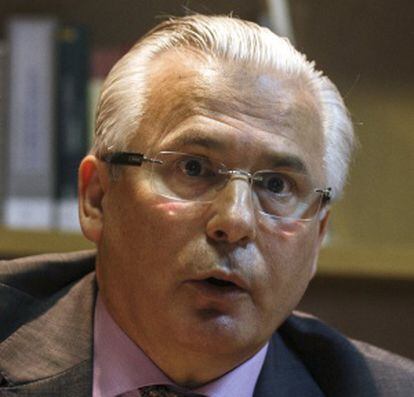 Although the murder investigation is ongoing in Brazil, Judge Velasco said he was also assuming jurisdiction in the case because it "involves a Spaniard who committed a crime" in another country. A complaint was filed with the High Court by the couple's daughter, María del Carmen Figón Lopes, against her father.
On May 22, the Spanish Attorney General's Office told Velasco that it was against the High Court asking for Figón's extradition and assuming jurisdiction in the matter.
"Brazil is the competent state where the facts of the murder that took place there can be investigated," it said.
Figón has admitted killing his wife – who reportedly suffered from depression – in self-defense after she came at him with a knife during a dispute at their home in Vitória, the capital of Espírito Santo state.
According to Garzón, the officer "has shown that he is willing to cooperate with Spanish justice, in the same way he is doing with the Brazilian authorities" and will show up for his High Court date if he is allowed to leave Brazil.