TELEVISION
'Game of Thrones' exhibition brings the Seven Kingdoms to Madrid
The HBO fantasy drama's traveling show lands in the Spanish capital for five days only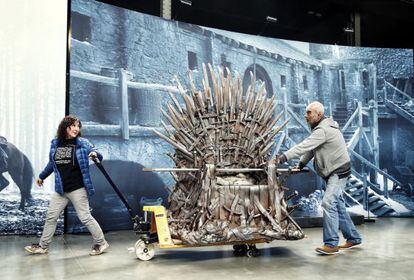 "When you play the game of thrones you win, or you die. There is no middle ground." Fans of HBO series Game of Thrones already well know what Cersei Lannister was talking about when she uttered those words in season one. They found out quickly enough, when Ned Stark's head rolled several episodes later.
The sword of the deceased lord of Invernalia is one of the objects already seen across the world by over 200,000 visitors to the Game of Thrones traveling exhibition.
It's clear that managing the lines will be the most complicated task ahead of us"
Now, it is Madrid's turn to host the show. Between Wednesday and Sunday, items from the HBO television series will go on display at Matadero de Madrid's Pavilion 16, where anywhere between 10,000 and 12,000 people are expected to show up.
The exhibition includes interactive displays, a 4D virtual reality experience and over 70 objects from the fantasy drama whose massive popularity has stretched far beyond the TV screen and the original book series upon which it is based, A Song of Ice and Fire by George R. R. Martin.
The exhibition has already made stops in London, Stockholm and Tel Aviv this year, and after Madrid will move on to Berlin, Amsterdam and Paris.
"This exhibition is not going through many places," explains Miguel Savat, director of Canal+, the network that broadcasts the show in Spain. "Spain has been very important to the series this year, with filming on location in Seville and Osuna. We'd been trying to get the exhibition to come here for a long time, and they have now realized how important this country is to the series."
Preparing for the event was no easy task. Workers at Canal + explain that ever since the exhibition got underway three years ago, they began expressing an interest in bringing it to Spain. Finally, in the summer of 2014, there was a flurry of email exchanges that led to an exhibition venue being found in Madrid. In February of this year, two HBO representatives came over to give the green light to the space proposed by City Hall.
On Friday of last week, 75 enormous wooden crates bearing the TV show's seal landed at the Spanish capital's Barajas airport, and four trucks transferred them to the Matadero.
"We began unloading them at 5.30 in the morning, and in three hours or so everything was inside. After that, two people from HBO – the tour managers – organized the way it would be set up," explains exhibition producer Raúl de Lamo.
On Monday morning, around 50 workers were busy preparing display windows, dressing the mannequins and putting up the partitions that will divide the 600-square-meter space into more manageable areas. Nearby, the wooden crates sit empty. Soon they will be filled again with items that include 28 costumes worn in the series, Jaime Lannister's gold hand and a replica of a White Walker.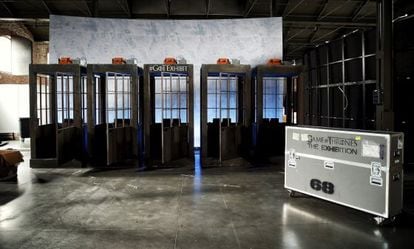 Chief among the items on display are the wedding dress worn by Margaery Tyrell when she married Joffrey Baratheon, a handcrafted garment that took 200 hours to complete; as well as The Mountain's impressive sword, which weighs 25 kilograms.
All the objects on show are original props used in the television series except for the Iron Throne, which is a replica that visitors will be allowed to sit on.
The person in charge of selecting all these pieces was Elana Loewenthal, HBO's director of international marketing and the show's curator.
"We tried to focus on the fourth season, with a few iconic elements from earlier seasons and some things from the fifth," she explained.
Visitors who wish to participate in the interactive events first have to register at www.gotexhibit.com and join one of the houses featured in the series. This creates a code that they then have to introduce into a cellphone in order to receive personalized material for both events. Participants will be attacked by one of Daenerys' dragons and receive a video of the outcome on their phone, as well as turn into a White Walker and get a photograph sent by email.
But the star exhibit will in all likelihood be the virtual reality experience, in which visitors walk into a cabin and don glasses and headphones that transport them to Castle Black. Loewenthal says that people will feel the floor vibrate under their feet and a breath of cold air as they rise to the top of the Wall. "And then... careful, spoilers! We can't say more," she laughs.
In 2014, Game of Thrones overtook The Sopranos as the most-watched television series on HBO. But another indication of its popularity is the fact that 9,000 invitations to the exhibition were scooped up in just three hours. All other visitors will have to stand in line to gain access to the free show.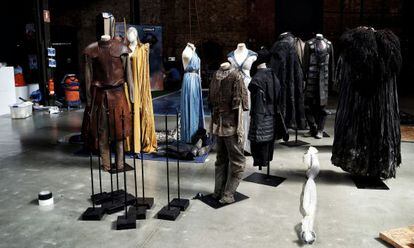 "It's clear that managing the lines will be the most complicated task up ahead for us," said a source at Canal +, admitting that this was the biggest promotional event it had ever handled.
Passionate fans of the series will not mind lining up to get a close-up view of Tyrion Lannister's crossbow or the leather outfit that covered Oberyn Martell. And of course, one of the murals in the exhibition reminds visitors that "all men must die." Such is the game of thrones. Valar morghulis.
Game of Thrones: The Exhibition. From Wednesday April 28 to Sunday May 3 at Matadero de Madrid, Paseo de la Chopera, 14, Madrid. Open: Wed, Fri and Sat: 10am-8pm; Thurs: 10am-7pm; Sun: 9am-1pm. Sessions every hour. Admission free. https://www.gotexhibit.com/spain/madrid/