Blood found on meat grinder belongs to woman missing in Majadahonda
Murder investigators to search property in Toledo for remains of 55-year-old Argentinean
The human remains discovered inside a meat grinder found by police in a home in the Madrid satellite town of Majadahonda belong to a tenant who went missing a month ago.
The Civil Guard on Thursday confirmed that the blood and tissues are those of Adriana G., a 55-year-old Argentinean woman who was renting out a room from the suspect.
An analysis of DNA samples from the grinder matched those provided by the victim's brother, who flew to Spain from Argentina after filing the complaint that led to the grisly discovery.
Investigators found a bank account in the aunt's name, but no outgoing transactions have been recorded lately
Law enforcement officers were planning to search for further remains on a Toledo province property owned by the suspect's aunt.
This latter woman, who is also the real owner of the house where the grinder was found, disappeared four years ago and investigators suspect she may also have been murdered by Bruno H. V., a 32-year-old Spaniard with a history of psychiatric problems.
The suspect, who has been in preventive prison without bail since the police searched the home and found suspicious material, including blood stains and a bloody knife, claims that he sent his aunt to a retirement home but cannot remember which one.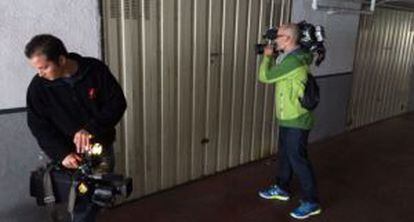 Investigators have found a bank account in the aunt's name containing around €20,000. Although pension checks have been deposited regularly, no payments have been made from the account in a significant amount of time, Civil Guard sources said.
Bruno H.V. was described by investigators as cold and detached, as though he were completely unaffected by the matter. He was also well-versed in the law and refused to cooperate at all times.
Located inside a residential estate called La Sacedilla, in the quiet, middle-class town of Majadahonda, the house was being rented out by the suspect, who seemed to favor single people without family ties in Spain.
The Civil Guard is trying to locate several other tenants who lived there in the past, whose leases were found in the garage. Four of them have since come forward to confirm they are alive and well, but two others remain unaccounted for.