Terrorism
Four jihadist recruiters arrested in Catalonia and Melilla
Those detained edited and translated ISIS propaganda into Spanish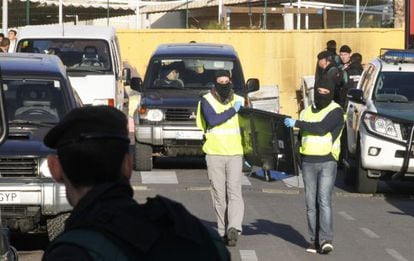 The Spanish Civil Guard arrested several people on charges of recruiting and training for "the jihadist terrorist organization Daesh" during early morning raids in Melilla and Catalonia on Tuesday. Daesh is the Arabic acronym for the Islamic State of Iraq and the Levant (ISIS).
Two people were detained in the Spanish North African exclave while at least two others were arrested in Barcelona and Girona. The warrants were issued by the High Court, which is carrying out an ongoing operation into jihadist recruiters operating in Spain.
Two of those arrested organized meetings in the homes of potential jihadist recruits to screen ISIS videos
The two arrested in Melilla allegedly created different internet platforms to post "all types of terrorist group propaganda, especially from the group known as Daesh," the Interior Ministry said in a statement.
The pair edited and translated the material into Spanish and were also responsible for recruiting women as well as indoctrinating potential jihadist fighters, the ministry said.
As part of the recruitment process, the two would organize meetings in the homes of potential jihadist recruits to show them videos.
The Civil Guard is now investigating the links between the pair arrested in Melilla and the two detained in Catalonia.
The Interior Ministry said the profiles of this pair were different. One was described as a "dynamic" individual who "edited the material and prolifically disseminated it" while the other was believed to be a "prototypical loner" who was once featured in a CNN News report on Islamist radicalization.
He described himself as an Islamist sympathizer living in a western nation.