LATIN AMERICA
Venezuelan opposition leader faces assassination plot charges
María Corina Machado is accused of trying to eliminate President Nicolás Maduro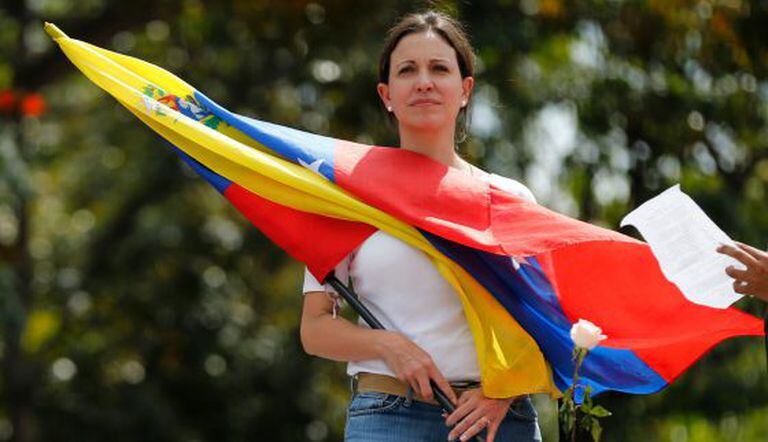 Venezuela's state prosecutors on Thursday announced new action in connection with an alleged plot to assassinate President Nicolás Maduro.
The allegations are based on email messages the government said it intercepted from webmail accounts in May. The writers of the emails discussed plans to "annihilate Maduro."
Back then, the government immediately pointed its finger at former legislator María Corina Machado, a major opposition figure.
On Wednesday the Sebín, Venezuela's political police, sent Machado official notification that she will be charged next week.
Her team now fears that she may suffer the same fate as another leading opposition figure, Leopoldo López, who has been behind bars for nine months for leading an anti-government protest in Caracas that descended into rioting and caused several deaths.
"I am aware of it," said Machado in a brief telephone conversation with EL PAÍS. "But I will appear before the prosecutor on December 3."
In early June, Machado testified as a witness in the case and was barred from leaving the country. She said she was interrogated for eight hours but was never asked about the contents of the emails.
"That is the only solid evidence they have produced in all these months, but Google has already proven that those writings were forged," she said just ahead of a neighborhood assembly, in which she was due to promote the creation of a national congress of citizens unaffiliated with traditional political parties.
The United Socialist government of Venezuela claims that Machado used her Google account between March and May, at the height of the protesting, to criticize the lack of solidarity by opposition members who opposed taking to the streets to force Maduro out; she also allegedly claimed to have support from Washington towards this goal.
Machado said she stopped using that account in 2013, when private photographs were published on the social networks.
Several recipients of her emails face arrest orders, including Machado's advisor, Gustavo Tarre Briceño, and former presidential candidates Diego Arria and Henrique Salas Romer.
Machado said it was worth noting that this summons has arrived on the same day that she demanded independent candidates to the National Elections Council.
"This is a regime that punishes, attacks and permanently harasses," she said. "I am denied seats on the state-owned airline to visit Venezuela's regions, the political police cuts off the electricity at my public events, and I am censored in all the media. The government wants us to buckle, but they are wrong."
Prosecutor Katherine Harrington will investigate the alleged assassination plot. Walter Márquez, a national deputy, was quoted by the daily El Nacional as accusing Harrington of being the spearhead of "the repression and the judiciary's terrorism aimed at criminalizing the dissidence."
At EL PAÍS, dozens of journalists are working to bring you the most rigorous information and meet their public service mission. If you want to support our journalism and enjoy unlimited access, you can do so here for €1 for the first month and €10 from the following month, and you can cancel at any time.
Subscribe