Santander chief Emilio Botín dies at 79
Chairman of largest bank in euro zone by market value suffers heart attack in Madrid Board meeting on Wednesday afternoon designates daughter Ana Botín as new leader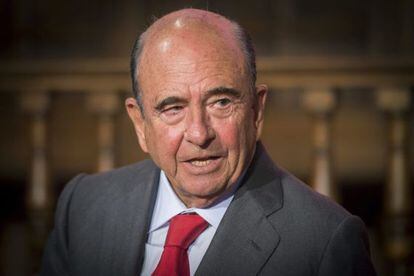 Emilio Botín, chairman of the Santander banking group, died in Madrid on Tuesday night of a heart attack. He was 79.
Bank officials gave the news to the market watchdog, the National Securities Commission (CNMV), early on Wednesday morning.
By Wednesday afternoon, the group's board had unanimously voted in his daughter, Ana Botín, as new chairman of Banco Santander.
The remains of one of Spain's foremost bankers will be taken to his home town of Santander for burial, bank sources said.
The Santander Group is the largest bank in the euro zone by market value, and one of the world's largest by market capitalization.
Born in 1934, Emilio Botín came from a long line of bankers that included his great-grandfather, grandfather, uncle, father, and brother.
Botín's family was involved in an alleged tax fraud scandal involving Swiss bank accounts, but the investigation was dropped in 2012 after the Botíns paid €200 million in back taxes.
New appointment 
A statement sent to the CNMV on Wednesday afternoon read: "[Ana Botín] is the most suitable person given her personal and professional qualities, her experience, her career within the group and her national and international recognition."
Botín has served as president of Banesto, a unit of Santander, and is currently CEO of Santander UK.
"During these very difficult moments for me and my family, I would like to thank the board for their confidence," she said in a statement on Wednesday afternoon. "I have worked for the Santander group for many years in different countries and with different responsibilities, and I have seen for myself the huge qualities and dedication of all of our teams. We will continue to work with total dedication to continue building a Banco Santander that is better every day for our customers, employees and shareholders."
With her appointment, Botín has become the first woman to lead a financial group of this size.