Venezuela's Globovisión censors TV interview with author Vargas Llosa
Program host Shirley Varnagy resigns in protest, joining 50 others who have recently left station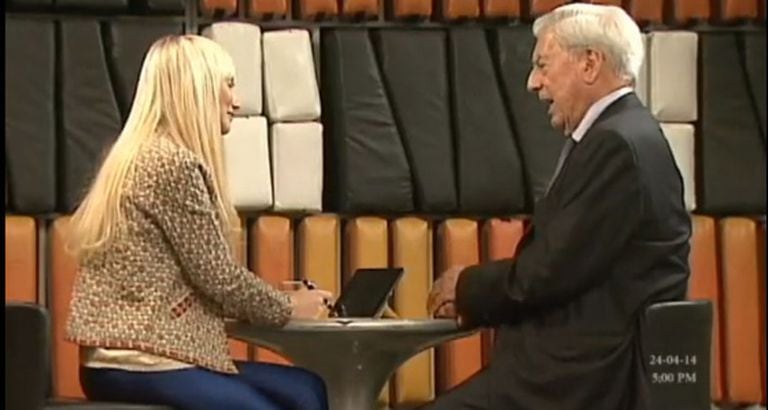 The effects of Mario Vargas Llosa's recent visit to Venezuela are still being felt in the country several days after his statements to a television station.
On Tuesday, Globovisión – which was acquired a year ago by investors with ties to the government – finally decided to air an interview with the Nobel Prize winner conducted by presenter Shirley Varnagy, who has her own evening program.
But management omitted the Peruvian writer's reply to a question about former Venezuelan leader Hugo Chávez from the broadcast, in a move that the interviewer has described as censorship.
On Wednesday night, the journalist handed in her resignation and tweeted the following message to her online followers: "Yesterday (Tuesday) they did not broadcast my complete interview with Mario Vargas Llosa. I will not be silenced on my program; today was my last day at Globovisión."
The tweet caused a stir because it seems to support the opposition's claims that Globovisión, once an active adversary of the Chávez regime, now bows to other interests that seek to prevent popular anger at the government from spreading.
Varnagy joins another 50 people who have either resigned or been fired from the station since April 2013, when the television station changed hands.
The question that triggered Varnagy's decision to quit was put to Vargas Llosa towards the end of the second part of the program. The interviewer asked him what he thought about Hugo Chávez, based on a story written 15 years ago by Gabriel García Márquez in which the late writer said the Venezuelan leader had two different men living inside him: "one to whom dumb luck offered the chance to save his country; the other, an illusionist, who could go down in history as just another despot."
Nobody heard Vargas Llosa's thoughts on the statement. Station managers instead decided to replace the last set of questions with a newscast.
Varnagy, who was watching her own show at home after putting it together with her team, immediately asked for explanations. At first she was told it was due to technical problems. But days later the truth emerged.
Vargas Llosa was interviewed on Thursday, April 24, but Globovisión tried to delay the broadcast as much as it could. Management asked to see the program before airing it. Varnagy agreed, but set a condition: "His opinions on my program cannot be edited."
The interviewer asked Vargas Llosa what he thought about Hugo Chávez
Although company execs greenlighted the show for Monday and even ran ads for it, privately there was some concern about how the government would react, said two sources familiar with the situation.
"These are very tough times for Venezuelan journalism," said one of the sources. "The owners are under a lot of pressure, but I cannot side with them."
A televised address by President Nicolás Maduro, which the station was forced to broadcast on Monday, bumped the Vargas Llosa interview up to Tuesday.
All through Wednesday, Varnagy demanded that Globovisión air the program again, this time without cuts. She never received a reply, leading to her decision to step down before she lost professional credibility. Her Twitter account offers a link to Vargas Llosa's complete statements.
As though to placate the critics, the station responded by uploading the full program on to its website. In it, Vargas Llosa's reply to the question is finally heard: in his opinion, Hugo Chávez experienced the Socialist utopia when it was already beginning to crack, and was only able to revive it through his personal charisma.
"Venezuelans have realized that sooner or later, this utopia is going to fail in the country, and this has created very intense tensions that President Maduro has inherited," he said.
Adheres to