Prosecutors target son of former Catalan premier in bribery case
Jordi Pujol Ferrusola accused of selling vote during passing of law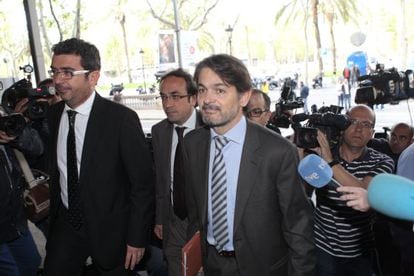 Anticorruption prosecutors have asked the Catalan regional High Court to officially name Oriol Pujol Ferrusola as a suspect in an alleged crime of bribery, judicial sources confirmed Monday.
The Barcelona public prosecutor issued a statement to clarify that these potential charges are separate from those Pujol is already facing in the so-called ITV affair, in which he has been officially named as a suspect for supposedly helping a group of businessmen win a public contract to manage the region's ITV vehicle inspection centers.
The prosecutor said that the investigations in the ITV case "discovered that [Ricard] Puignou had asked Pujol to cast a vote favorable to his interests in the passing of the Industrial Security Law, for which Pujol supposedly asked for 30,000 euros."
Businessmen Puignou and Sergio Alsina Jiménez, as well as Pujol's wife, Ana Vida Maragall, are also implicated in the case. Pujol, the son of former Catalan regional premier Jordi Pujol, who governed from 1980 to 2003, denies being part of a corruption network.
Pujol is the secretary general of the CDC, one half of the ruling CiU coalition in the region, and the latter's parliamentary spokesman.
CORRECTION: The drophead on this story initially named the politician in question as Jordi Pujol Ferrusola, instead of Oriol Pujol Ferrusola, as is correctly stated in the body of the article.