rock of contention
Protest by Spanish fishermen leads to stand-off in Bay of Algeciras
Fleet of around 40 vessels makes attempts to sail through Royal Navy cordon Boats were escorted by Civil Guard in disputed waters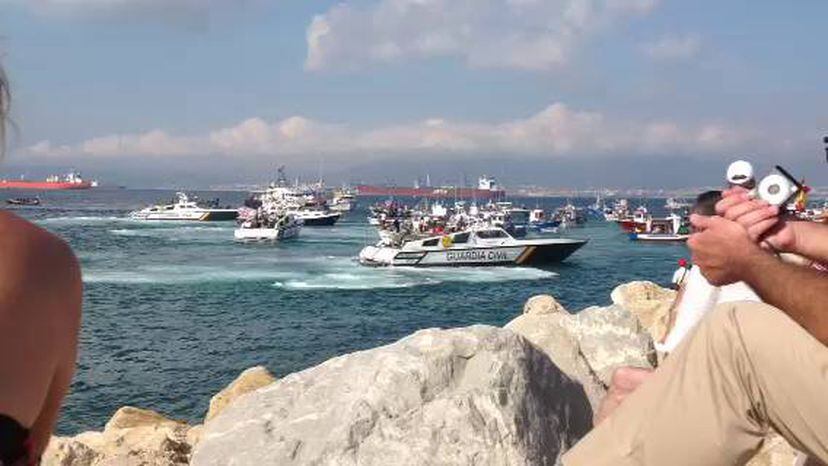 A protest staged by the Algeciras and La Línea de la Concepción fishing fleet prompted an unusual deployment of vessels from Gibraltar on Sunday.
Several Royal Navy and Royal Gibraltar Police patrol boats were sent out to meet the fleet of some 40 fishing vessels, which was escorted by three Civil Guard launches.
The British detachment formed a makeshift blockade along the imaginary line that marks the waters Gibraltar considers sovereign territory.
The fishermen set out at around 10am and made for the disputed area in the Bay of Algeciras, where Gibraltarian authorities recently sunk 75 steel and concrete blocks to impede the Spanish fleet from fishing there. Also on board the vessels were numerous journalists from around the world.
Spain and the United Kingdom have been at loggerheads for the past few weeks over Gibraltar. The Spanish government has stepped up border controls going in and out of the British outpost, drawing criticism from Downing Street, while Spanish Interior Minister Jorge Fernández Díaz said on Friday that the measures were "random, legal and proportionate," and came in response to an increase of tobacco smuggling between the two territories.
As the British and Spanish vessels circled each other in the bay, insults were hurled from both sides of the border.
There was some tension when the Spanish fleet, under the watchful eye of the Civil Guard, attempted to pass the floating cordon to a chorus of "Gibraltar, Español," from the La Línea side of the frontier. But the attempt was abandoned and the opposing crews limited themselves to some verbal sparring.
At around 11am and with no major incidents, the Spanish fleet returned to their ports while the Royal Navy vessels maintained their vigil in the disputed waters.
Meanwhile, the Royal Navy helicopter carrier HMS Illustrious arrived at the Spanish-US military base in Rota on Sunday morning.
The Illustrious is leading a detachment of three Royal Navy battleships and their auxiliary vessels, which are scheduled to make a stop in Spain before going to the Persian Gulf to participate in military exercises with other NATO forces.
The Illustrious' escort vessels will weigh anchor in Gibraltar ahead of a series of maneuvers in the Mediterranean. The expedition has been described by Spanish diplomats as routine. The Ministry of Defense asked Spain for permission to dock several weeks ago. Spanish Defense Ministry sources said that the Invincible-class aircraft carrier had been "authorized" to use the base at Rota, "as is the case with many vessels during the course of a year."