CINEMA
Almodóvar shoot checks in at abandoned Ciudad Real airport
Director filming final scenes of 'I'm So Excited' on disused runway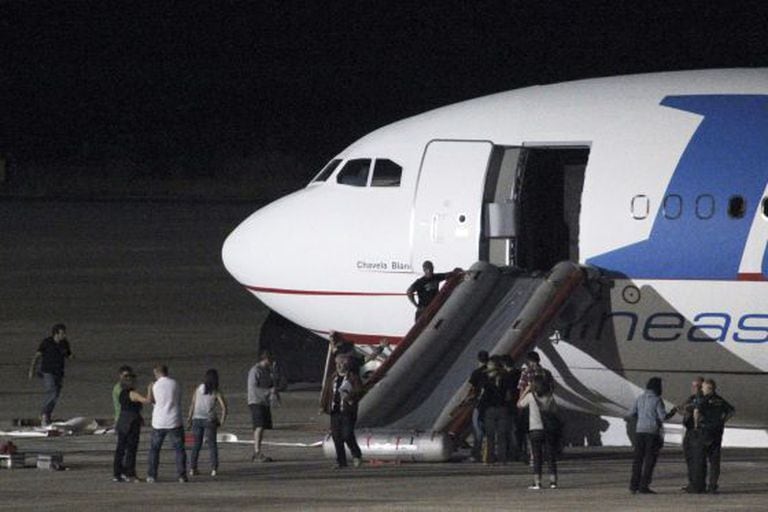 Pedro Almodóvar was filming the final scenes of his latest movie, I'm So Excited, at the disused Ciudad Real airport this week.
The 500-million-euro construction, which a group of investors had hoped would be Spain's first private airport, was serving as the location for scenes of an emergency landing.
The first night of the six-day shoot involved fire trucks swirling around a 29-meter model of an Airbus-30, which has been christened "Chavela" in tribute to recently deceased singer Chavela Vargas, and attracted dozens of onlookers from nearby towns.
The comedy, which stars Javier Cámara, Cecilia Roth, Hugo Silva, Miguel Ángel Silvestre, Carlos Areces, Paz Vega and Lola Dueñas, and features cameos from Penélope Cruz and Antonio Banderas, is set almost entirely inside the cabin of an airplane bound for Mexico. The story sees the plane forced to make an emergency landing in a closed airport for security reasons.
The Ciudad Real airport, where a real airplane has not taken off since April 13 when private planes stopped flying there, has in recent months become the perfect location for film and advertisement shoots. Part of Vuelo IL8714, the controversial Telecinco series about the 2008 Spanair crash in which 154 people died, was also shot there.
Vueling, the only commercial airline to have operated at the airport, announced it was pulling out of Ciudad Real last October. More cabin crew were reportedly flying on the flights than passengers.