ECONOMIC CRISIS
Robin Hood mayor promises more supermarket food raids
Renegade leftist also leads squatter takeover of military base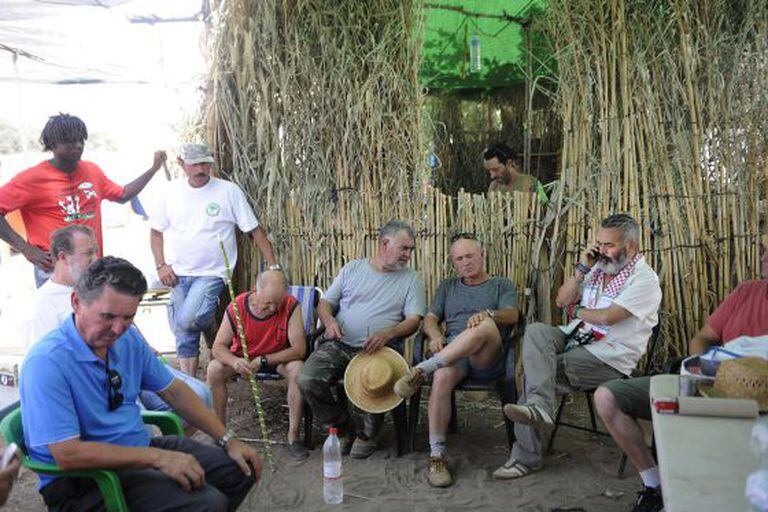 The mayor of the Seville town of Marinaleda, Juan Manuel Sánchez Gordillo, promised on Wednesday a repeat of the extraordinary scenes he orchestrated the day before, when he led hundreds of members of the Andalusian Union of Workers (SAT) in robbing products from two supermarkets. The Robin Hood-style escapade was carried out, Sánchez Gordillo explained, because "someone has to do something so that families can eat."
The politician, who has been mayor of Marinaleda for 33 years and is also a deputy in the Andalusia regional government for the left-wing grouping United Left (IU), spent Wednesday on a Seville estate that belongs to the Ministry of Defense. Sánchez Gordillo and his supporters occupied the land just over two weeks ago.
While the media was there in force, given the furor over the supermarket thefts the day before, there was no sign of the authorities, despite the fact that the interior minister, Jorge Fernández Díaz, ordered the arrest of the perpetrators of the theft.
Sánchez Gordillo did not take part in the robbery of goods at the Mercadona supermarket in Écija, but was outside the store, directing the operation with the use of a megaphone. At the same time, the general secretary of SAT, Diego Cañamero, entered a Carrefour store. Each group took around a dozen shopping carts filled with sugar, oil, milk and other staples, and left without paying.
But no NGO had put out a request for the items, and food banks reported that they have sufficient supplies without having to resort to stolen goods.